Image by fredpanassac via Flickr
Fall yields a great season of art in Paris, this year being no exception. With exhibits like "The Treasure of the Medicis" at the Musée Maillol (pictured on right), the monumental "Monet" at the Grand Palais, "Arman" at the Centre Pompidou (how the French love the late artist), and more, we are dripping in art. But don't count out the small galleries that are interspersed around Paris. There is no better time than the holidays to drop into them, when store windows and streets are festively decorated, and Parisians are feeling the holiday cheer.
I was wandering down the rue du Mont Thabor in the 1st Arrondissement, which is one of my favorite Paris streets, when my eye was caught by this fetching window of skulls.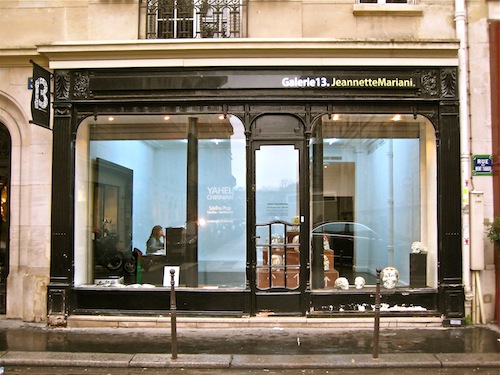 Galerie 13 Jeannette Mariana

I was taken with the skulls and walked into the gallery to see what I could discover about the bony sculptures and the artist who crafted them.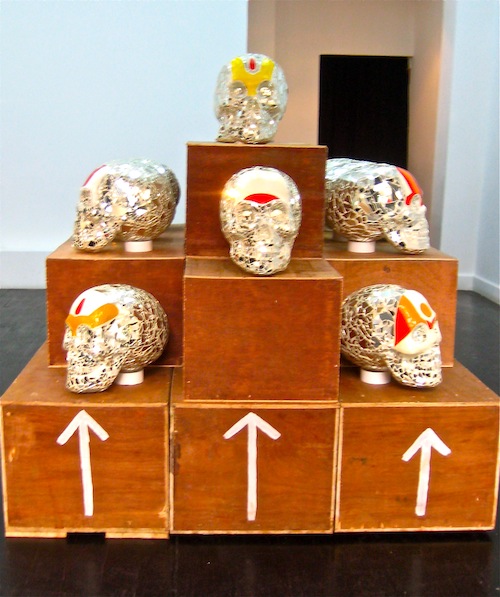 The artist, Yahel Chirinian, is French born, part Tunisian Jew, part Armenian and the rest of her is WHOLLY Indian in soul and spirit. She lives, imagines & creates at her heavenly abode in Goa, India, that is filled to the brim with her creations. She has done exhibitions and shows in Bombay, Los Angeles, London, Milan, Delhi, Qatar, Tokyo, Brussels and now Paris at the Galerie 13 Jeannette Mariani.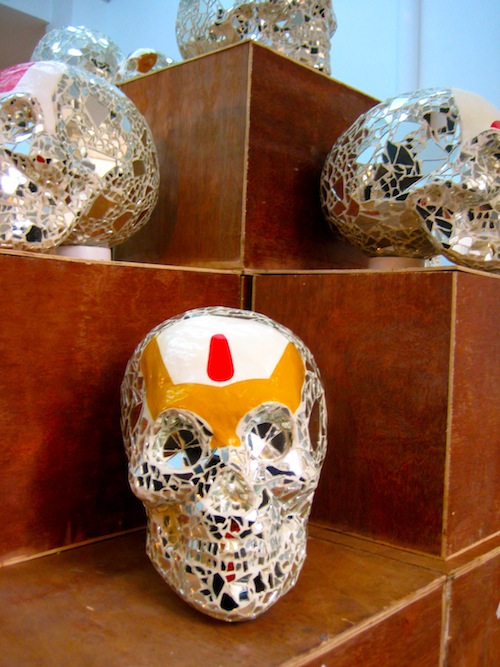 In the last 10 years, Yahel Chirinian has created and continues to create mirror installations and sculptures--in between fine and Pop, conceptual, profane, and sacral. Much of her work has been commissioned to customers and private collectors that spread across India, Lebanon, Italy, California, New York, and Paris. "Energies and Elements remain my greatest inspiration. The amazing quality of light and the brightest of colors inspire creations in its complete synergy. Mirror sculptures choreograph daily life through reflections and light" says Yahel.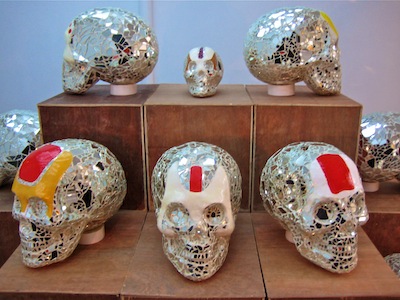 When the light hits these extraordinary skulls, it explodes across the ceiling and walls like a disco ball--a reflection of the surrounding milieu and those of us looking into these light- and color-cracked skulls.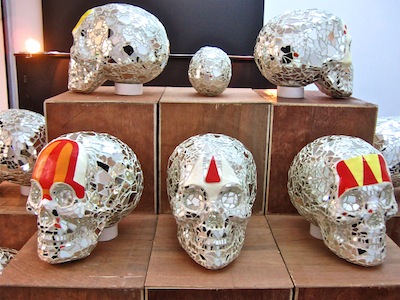 Ms.Chirinian has created her vision of the sadhu--Sadhu Pop Vanitas Vanitatumand--and these skulls are her play, her idea of them. It is a rich and complex subject.
A little about sadhus: The sadhus are to HInduism what the apostles and saints are to Christianity. From Wikipedia...
In Hinduism, sadhu, or shadhu is a common term for a mystic, an ascetic, practitioner of yoga (yogi) and/or wandering monks. The sadhu is solely dedicated to achieving the fourth and final Hindu goal of life, moksha (liberation), through meditation and contemplation of Brahman. Sadhus often wear ochre-colored clothing, symbolizing renunciation....Sadhus are sanyasi, or renunciates, who have left behind all material and sexual attachments and live in caves, forests and temples all over India and Nepal."
There are 4 or 5 million sadhus in India today and they are widely respected: revered for their holiness,[4] sometimes feared for their curses. It is also thought that the austere practices of the sadhus help to burn off their karma and that of the community at large. Thus seen as benefiting society, sadhus are supported by donations from many people. However, reverence of sadhus is by no means universal in India.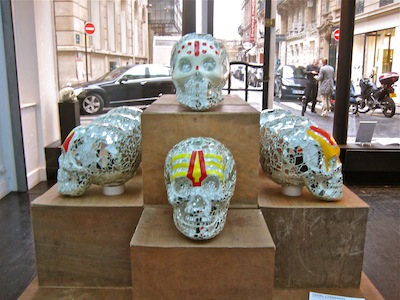 Sadhus are not unified in their practices. Some live in the mountains alone for years at a time, eating only a few bananas. Others walk around with one hand in the air for decades. Still others partake in the religious consumption of charas (hand-made cannabis hashish) and contemplate the cosmic nature and presence of God.


There are naked Naga (Digambar, or "sky-clad") Sadhus which are non-shaven and wear their hair in thick locks, and Jata, who carry swords. Aghora sadhus may claim to keep company with ghosts, or live in cemeteries as part of their holy path. Indian culture tends to emphasize an infinite number of paths to God, such that sadhus, and the varieties that sadhus come in have their place.
Man is a vain creature. The question Ms. Chirinian asks: With all the measures the Sadhus take to become ascetics and escape their earthly world, are they constructing their own kind of vanity?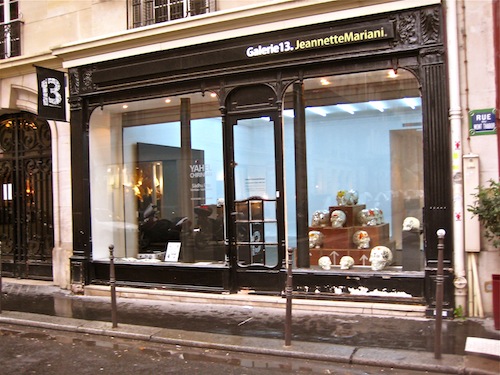 Ms. Chirinian has produced visually interesting pieces that erupt with energy and light. Did she capture this paradox? The answer for me is yes.

Galerie 13 Jeannette Mariana
36, rue du Mont Thabor
75001 Paris
Tel: +33 1 40 15 02 80
Exposition 19 November - 31 December 2010

---Beth Arnold in Paris.