Crossposted at the HuffPost.com.  Comments not included here.
While Paris Fashion Week was gearing up and its participants were sharpening their stilettos (though hold the presses for the Big New Flash about that: According to a Reuters article, "buyers and designers at Paris fashion week are declaring the end of the celebrity cult." Has Hell frozen over?), I was hurrying down the street to meet my arty friend Louise. For those in the know: Louise has put up a new show at her chic Atelier 7. You don't want to miss it.
Louise and I were headed to a fashionable party. The Mademoiselle à Paris blog--which chronicles the adventures of a "Parisienne" via "Mademoiselle's" fashion and beauty ramblings--was throwing itself a 2nd birthday party. Oh la la! As a charitable part of the bon anniversaire celebration, stylish Parisian buddies e-boutique Je Ne Sais Quoi, leather cuff and other accessories designers Owen&Savary, and jewelry designer Nathalie Sevikian were holding a private sale of their luxury creations and products. A portion of their sales would be given to the Red Cross for Haiti.  Little Miss Cupcake and Synie's Cupcakes were providing the scrumptious hors d'oeuvre sustenance that would allow us guests to enjoy our champagne without its zooming to our heads.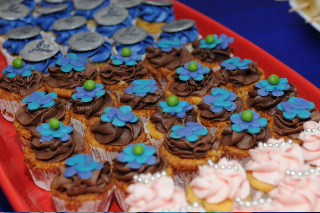 Little Miss Cupcake's cupcakes
While millions of euros were being prepared to be spent on lavish splendorous events to woo the buyers, wearers, and fickle fashion press (with its soon-to-be-dead celebrity culture) of Paris Fashion Week, these smart women had come together to provide their own venue for their own private show, where clients, friends, and journalists would gather to ooh and ah over the quality, materials, and craftsmanship of these very personally chosen and created collections.
This is Fashion 2.0--or what I'm going to call (with a nod to Edinburgh's Fringe Festival) "Fringe Fashion Week." These designing entrepreneurs are not just creating their own brands, they're also inventing in the fashion industry what we're seeing in other parts of the culture in 2010, and what we're going to see more and more of in this 21st Century: people creating themselves, their lives, and their passions with artisanal attention to detail. People going small to become big on just about every level you can think of.
These women are connecting to others like themselves to develop a grassroots community that not only helps one another but also promotes itself. The true luxury moving forward is not the over-the-top empires of perfectionist Martha Stewart and now Jamie Oliver (God help us. I just saw he's got his own Jamie Oliver brand Tupperware salesmen, while at the same time trying to make fat people thin in Appalachia. I mean, come on). This financial correction which has cut out the fat in most every industry--and they all needed it--is providing the opportunity for people to come back to earth and re-find their humanity as well as their values. The true luxury moving forward is handcrafted people (not stamped with Like Everyone Else) with their own ideas and designs that they are contributing to their cultures and consciousness, and with a solid community behind them.
As bizarre as this may seem to some, Paris needs a Fringe Fashion Week. The City of Light may be the world center of fashion, but--Je Ne Sais Quoi founder Mireille Nagourney says--it doesn't gladly open its doors and invite youthful newcomers in. Unlike such cities as New York and Barcelona, where young designers bubble up all the time, Paris is a city of darkness for them. Truly, this is part of the glory and downfall with French culture in general. It demands tradition, and change is looked down upon.
How did these women get together? Twitter central. From Je Ne Sais Quoi's Marketing and Communication Executive Lindsey Tramuta:
All of these relationships got off the ground because of twitter. We began reading Mademoiselle à Paris before following her tweets, but twitter offered us the opportunity to dialogue with her and to eventually exchange private messages. We met Nathalie Sevikian through Mademoiselle and were excited to participate in the event with her. Our partnership with Owen&Savary stems from our mutual friend Little Miss Cupcake who suggested we check out the launch of their leather cuff line. All of these connections are because of twitter. I guess you could say we're Web 2.0 kind of girls!
Louise and I were the first to arrive at the soiree, which was held at the smart apartment of one of its hostesses. We drank crispy cold champagne as the bright young entrepreneurs and designers wrapped us up in their visions--as well as in their luxurious leather cuffs, baby-soft cashmere scarves, leather jackets, pearl and diamond rings, necklaces, and earrings.
A quick rundown of each of the fashion participants:
Mademoiselle à Paris has a degree in engineering and has worked in the IT industry, going through all the phases from gaming to tech endeavors to 2010 blogger. She began her involvement in media as editor-in-chief of her college newspaper. She hopes to inspire people to look for fresh designers and for the things they love. Mademoiselle à Paris Style: "I'm a style chameleon, wearing whatever I fancy at any particular moment."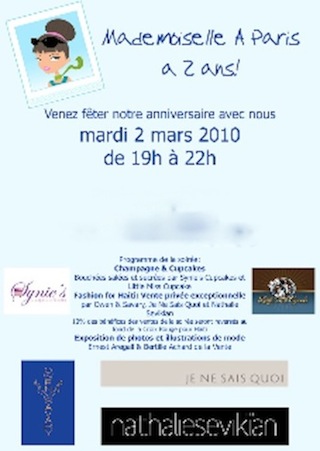 Je Ne Sais Quoi (JNSQ) is a unique multi-brand e-boutique that combines simple and classic ready-to-wear with elegant and edgy accessories for men and women (plus lifestyle goods). They cater to a fashion-forward clientele that appreciates multi-cultural lifestyles, and they showcase innovative international brands with fine craftsmanship and materials. The e-boutique strives to bring emerging designers to the forefront and to promote their collections. JNSQ Style: All of the pieces on the website are "coup de coeur" (instant attractions) that Ms. Nagourney could imagine herself or her friends wearing, regardless of whether the pieces were considered "trendy." What is important is that the brands and pieces reflect her values.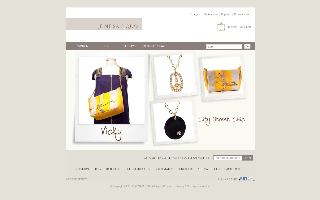 Owen&Savary is a luxury brand of leather jewelry and accessories focused on leather cuffs for both men and women that was launched in November 2009. Kira Owen and Valérie Savary met while living in South Africa and became devoted friends. They could never find a luxury leather cuff that had the beauty, style, quality, and fit that they desired. So they took their time, found the French craftsmen, and designed their own. They use Skype every day to work together between their two bases in London and Paris. Owen&Savary Style: "Our style reflects French natural elegance with an edge. We like to experiment with different trends, colors and textures. We hope that our creations will inspire others to accessorize their style in a refined, modern, and flattering way."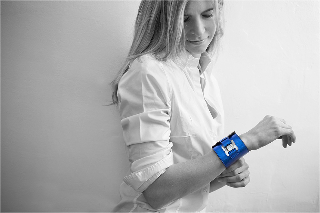 Nathalie Sevikian is anti-bling. Her creative approach is to revisit organic elements and timeless shapes, to bring a vintage flair into modernity using universal and symbolic elements that evoke a sensation of subtle eroticism. Her vision is to create pieces which will be come "classics," trendy yet beyond trends--pure, innovative and sensual, playing with volume, shape and texture. Each collection has an inner symbolism, but all are 100% made in Paris with Love. The Nathalie Sevikian boutique is in Le Marais in Paris. Nathalie Sevikian Style: "I would define myself as a modern pin-up. I don't see myself without heels. I only wear dresses, black is my color, silk and lace are my favorites. Elegance is my key word."


Ms. Sevikian offers this advice to others: "What a women is wearing influences her behavior every minute of the day. I'd like women to demonstrate how proud they are to be women, to be elegant during the day--not only to go out in the evening. I tell my clients that details are important and that the jewels they wear should be part of their intimacy. Everything they wear should feel good on their skin and comfortable. Otherwise, something is wrong. I also teach them not to be followers but to decide for themselves what they like and what they don't and that fashion is not a dictatorship. Style has nothing to do with big brand names and money you can spend. There is no shop to buy style, each women has to listen to herself to invent her own."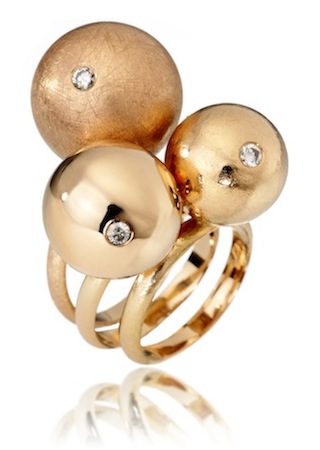 "The Internet is a very powerful media," says Ms. Sevikian, "but it is a huge jungle. In my opinion it takes the same effort to have people come to my website or have them come to my boutique in Le Marais." Sevikian is the only one of these Parisian fashion entrepreneurs who is not on twitter, but she believes in synergy and is very proud to see women as entrepreneurs fighting to develop what they have deep inside.
As for her comment on each woman inventing her own style, she is singing to the choir with Louise and me.

                                                               ---Beth Arnold in Paris
Follow Beth Arnold on Twitter: www.twitter.com/BethArnold