Image via Wikipedia
Crossposted at the HuffPost.com.  Comments not included here.
By guest columnist Blair Graves, who is known in some circles as The Cheese Princess. She likes to drink wine, too.
Note from Beth Arnold: I may live in France and so drink French wines, but my daughter Blair, who lives in San Francisco, has the palate of note in the family. She's one of those people with super taste buds and a super sense of smell, which I put to good use when we're together. (You may have read, last year in The Huffington Post about the mother-daughter trip we took in March 2009 up the coast of northern California, which included the sharing of some delicious wines.) Wine tasting and drinking with Blair in her adopted state inevitably grows my appreciation for California vineyards. And the French are wild about San Francisco and northern California, where the food and wine culture in the U.S. most resembles France. So when Blair signed up for this stellar wine event in San Francisco, I asked her to please write us a dispatch. Let's sell more California wines to the French! Here's her report:
***
On February 20th, at Fort Mason in San Francisco, the winners of the San Francisco Chronicle Wine Competition were opened to a public tasting. This was the culmination of more than a week of hard work by 63 judges, who had evaluated almost 5,000 wines during the closed competition at the Sonoma County Fairgrounds. The categories were broken down by varietal (or blend) with several price points in each category as subcategories. One hundred wines in each category were awarded Best In Show. Add in Gold, Silver and Bronze for each category and you had hundreds of winning wines.
Prior to the Fort Mason event the San Francisco Chronicle ran a list of the Best In Show, and there was also a website that listed all the medal winners. Thinking about all those wines and the crowds (6000 people supposedly) milling in to taste them in such a short amount of time (2-5 pm) made me feel really overwhelmed, so I spent some time coming up with a tasting strategy. My plan was to skip only but the highest price point Chardonnay (since I don't love most Chardonnays here) and the dessert wines. The plan was to taste the low, a medium and a high point in each category if I could. I was not going to allow myself to taste any wine that I'd had before no matter how much I loved it, and I was not going to taste any wine that I see around a lot.
The plan went out the window very quickly. I walked in (thank heavens I got there early and was near the front of the line) and was handed a complimentary wine glass and a demi-baguette (a weak attempt to keep the palate clean). There were food stations set up throughout, which turned out to be a life saver. The tables were wrapped around the room in alphabetical order. It didn't take me long to find out that not even all of the "winners" had a table there, especially if they were from out of state. I was really disappointed because the winery that won for Cab Franc is located in New Mexico (!) and I was very curious about it. So, I winged it. I tasted many more whites than I intended. I really got on the sauvignon blanc and viognier train. I tasted a few more Chardonnays than I intended. Most which I dumped after one sip, one I will talk about in a bit. I tasted 40-60 wines I would say. I tasted some really great and some not so great. Even after palate fatigue set in I tasted something that I will, at some point, buy for my mother because I know she would love it.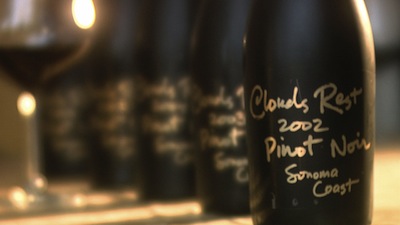 Pretty early on I tasted some really incredible wines from Clouds Rest Winery in Sonoma County. Their main focus is Pinot Noir, although they also do Chardonnay and Sauvignon Blanc. The winery is 100 percent manual labor, no machines anywhere. It's tiny production, no tasting room even, although they will taste by appointment. Their Pinots retail for at least $100 a bottle. But, my God, I was almost in tears they were so good. I tasted all three years that they were pouring and each one was very different than the other. Where one was more herbal, another was earthy. Where one was fruity, another was floral. They were completely different. And all really well balanced. I even liked their Chardonnay, which is huge for me. I don't like typical California Chardonnays. I am not into buttery, oaky white wine. Cloud's Rest was beautiful. This Chard is only delicately oaked, it's not invasive, you can actually taste the fruit. Less expensive than the Pinots. It was $45 for the Chard and I prefer it to Cakebread, for example, which is at least that much, if not more, and is way too oaky for my taste.
I had an interesting conversation with Scott, the GM of the winery. A really nice guy, by the way and very knowledgable. I asked him if they had seen a drop in sales because of the recession. He told me that actually they've had an increase in sales because a lot of people that would normally drop $200 or $300 on a Burgundy are coming to Clouds Rest because their wines are half that. The Sea Ranch Lodge (a really wonderful hotel and restaurant) is having a winemaker's dinner with Clouds Rest March 27th. Sure wish I could go.
I also had a Pinot Noir that I quite liked from Pudding River Wine Cellars in Salem, OR (Willamette Valley). Their Chardonnay was also very good. Aged in stainless steel and no malolactic fermentation. One winery that I absolutely loved was Mais Fica. The winemaker is Portuguese and they are located in the Sierra Nevada foothills. I really loved their Grenache Rose and the Festa (Mourvedre and Grenache). Also, they are really inexpensive! The rose was $15 and the Festa was $10. I thought these were really great value.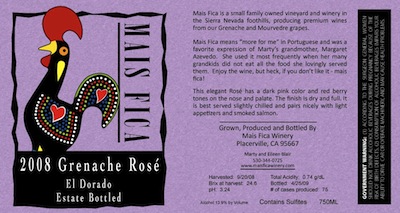 There were a couple of wines from Caliza Winery (Paso Robles) that I really liked. I have to confess, though, that I don't really remember much about this winery as I tasted it nearer the end of the event than the beginning. But I put a star by two of their wines, so I must have really liked them. One was the 2006 Azimuth ($50). Blend of Syrah, Grenache, Mourvedre, Tannat and Alicante Bouschet (what the hell is that, by the way?). Robert Parker gave it 92 points in June of '08, if such things impress you.
The other one (and I remember this one better than the other one) that I really liked was the 2006 Companion. Cab, Syrah, Mourvedre and Tannat. Forty dollars a bottle and I am really wishing that I had picked one up.
I bought two wines while I was there. The 2007 Dry Creek Valley Zinfandel from Jus Soli Winery in Sonoma (about $25, I think) that won a Best In Show. Seriously good Zin. And two bottles of Cabernet Sauvignon from Albertina Wine Cellars in Hopland which is in the mountains in Mendocino County. I drank one tonight and I'm going to lay one down for a bit. Albertina is a boutique winery and Cabernet is what they do. They were inexpensive for a Cab, especially for the quality that I thought they were. Teeny tiny production. No tasting room, but you can call them and they will let you picnic in the vineyard and provide the wine. I really liked this one. It takes its time opening up, but it is worth the wait. If this wine had come from Napa, it would have cost three times as much.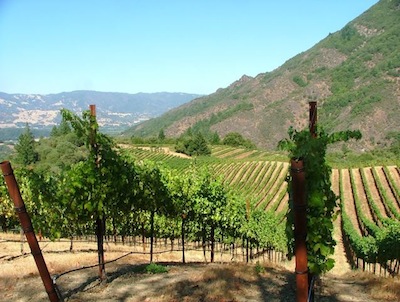 Albertina Wine Cellars mountain vineyard

Finally, there was a palate-cleansing beverage that should have had its own table. It's called SanTasti. It was developed by some Cal Poly Wine Students who have science backgrounds and it worked really well actually. If they'd had a table there I would have bought a couple bottles and will get some before I go wine tasting next time.
There were plenty of other wines that I liked. These were just the ones that I found most interesting. The whole thing was really a lot of fun. California Lamb had donated a ton of lamb that students from the culinary school were cooking. There was food set up in several different places. Pates and whatnot. But next year I'll go even earlier so I can seriously be at the front of the line to do my research. It's really hard to chat with people once they get busy. Not to mention having a little more time to sip.
Follow Cheese Princess Blair Graves on twitter at @princessblairdg.