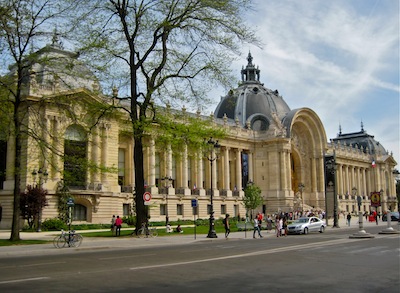 Le Petit Palais (Photo by Beth Arnold)
After licking my lips for more than a month, I finally made it to the first retrospective of Yves Saint Laurent, held, a little surprisingly, at Le Petit Palais. Why not the Musée de la Mode et du Textile at the Louvre, which has exhibited such couturier luminaries as Paul Poiret, Madeleine Vionnet, Elsa Schiaparelli, and Christian Dior? "Simply because it's Saint Laurent," says Gilles Chazal the Director of the Petit Palais. To translate: This means that Saint Laurent's elegant and astute business and life partner Pierre Bergé has worked his magic again. Saint Laurent's talent was beautifully guided and globally framed by Pierre Bergé during Saint Laurent's life, and now after his death. Bergé heads a figurative Blue Book of French celebrities that keep the Saint Laurent flame burning--as it should.
Saint Laurent is still the couturier king in France. Le Roi est mort, vive le Roi!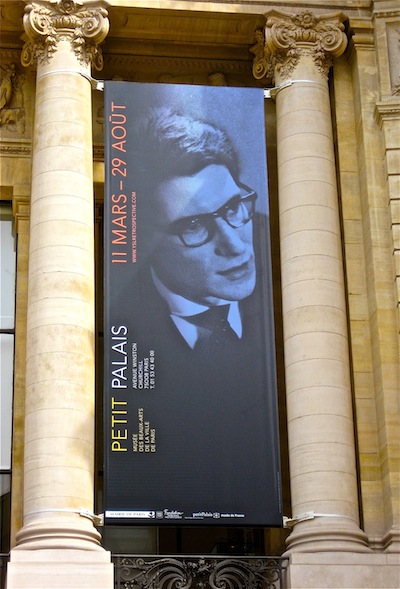 Saint Laurent Banner at Le Petit Palais (Photo by Beth Arnold)

France has many talented designers, of course. There is Maître Karl Lagerfeld, another aristocrat of fashion--but his strengths were not Laurent's and vice versa. Lagerfeld is king of a different coexisting domain, and Lagerfeld himself has the Bergé talent for brand building. But I'm not sure the French love Lagerfeld as much, do they? (He isn't French, of course.)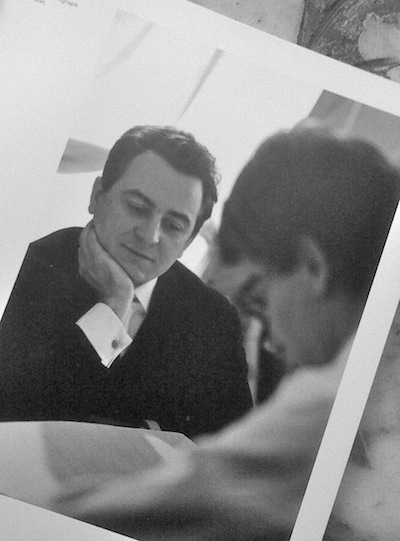 From the YSL book: Pierre Bergé and Yves Saint Laurent (Photo by Beth Arnold)

But I digress. The Fondation Pierre Bergé-Yves Saint Laurent has presented this exciting Saint Laurent retrospective in collaboration with First Lady of France Carla Bruni-Sarkozy, mayor of Paris Bertrand Delanoë (whose idea this was said to have been), and the Petit Palais.
I arrived with a ticket in hand (which is my new rule for visiting museums) rather than waiting in a long line. But even with the ticket I waited 10-15 minutes to be let in, and I'd reserved a headset so I could listen to the commentary. Most times I now do this...unless I just want to walk through an exhibit more casually.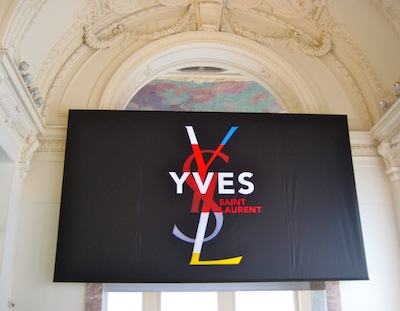 Inside the Petit Palais (Photo by Beth Arnold)
My heart immediately beat faster by Saint Laurent's work at Dior. One of my favorite photos of all time is Richard Avedon's shot of Dovimo holding court with prancing elephants (at the Cirque d'Hiver) in that long drink of a black gown and contrasting swath that fell to the floor--Saint Laurent's first dress for the esteemed house. Need I say more?
But that was just the beginning of Saint Laurent's fantastic oeuvre and career. Room after room was bursting with beautiful dresses, gowns, and Les Smokings that followed his career through the Gender Revolution and around the world from his interpretation of Russia, India, China, Japan, and Morocco, and with his supporters and muses Lou Lou de la Falaise, Betty Catroux, Paloma Picasso, and Catherine Deneuve.
I have always loved to wear what I call "costumes"--startling and chic ensembles that draw all eyes in a room to me, hopefully, to appreciate my sense of taste and style. (Never can I buy a simple suit--oh, maybe if it happened to be Chanel I could bring myself to do it.) Here, I was surrounded by such a bevy of stunning Saint Laurent beauty and sensibility, from the 1950's to the new century, that I wanted to become it. I wanted to touch it, to eat and drink it, to steal the beautiful pieces, wear them, throw a cocktail and dinner party in them, and then give them back for M. Bergé to protect and keep.
If someone was totally unfamiliar with Saint Laurent's elegant work, this show provides an exceptional classroom of what put the "Saint" in Laurent. I am fortunate to have covered Saint Laurent's funeral as well as the two globally reported sales of his and Pierre Bergé's splendid art and decorative arts collection. I also oohed and ahed over the Saint Laurent exhibition at San Francisco's de Young Museum in December of 2008, and his work never loses one iota of its vision or sparkle. It is breathtakingly fresh to see and experience, especially in this context.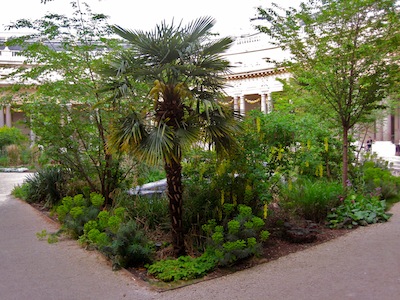 Cafe and Garden in Petit Palais (Photo by Beth Arnold)

I highly advise visitors to Paris to include this Saint Laurent Petit Palais retrospective on their itineraries--and also pick up a book--which I thought was well worth the 40 euro price. This exhibition is not just a classroom in the oeuvre of a gifted master, but it is the history of France and our Western world through the eye of fashion and style. It is an anthropology of our culture.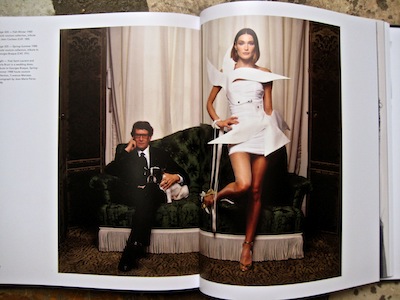 From the YSL book: Yves Saint Laurent with Carla Bruni (Photo by Beth Arnold)
                                                                            ---Beth Arnold in Paris