Image via Wikipedia
Crossposted at the HuffPo.com.  Comments not included here.
Any coastline on the Mediterranean is beautiful, so what is it about Corsica that makes it so dreamy?
One perfect day: The Lone Wolf, Cheese Princess, and I were wandering around Calvi's magnificent citadel when we came across the one and only Christopher Columbus, a native son according to the signs.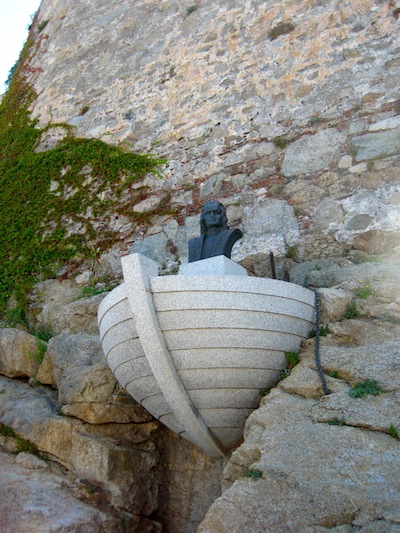 Christopher Columbus in Calvi (Photo by Beth Arnold)

We knew Napoleon Bonaparte came from Corsica, before he put the "E" in emperor. But Christopher Columbus? T.C.P. pointed out that Corsica was actually closer to Italy's mainland than France, and that Corsica was once part of Genoa. T.C.P. has a photographic memory, so she always knows the skinny.
Got to say that the views from the citadel were stunning, and we found the ideal place to have lunch.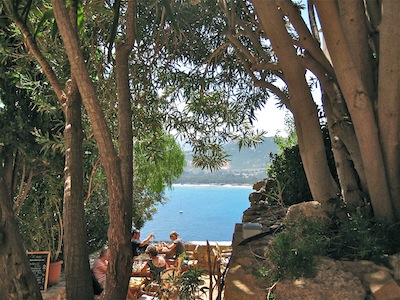 View of the Bay of Calvi from restaurant A Candella (Photo by Beth Arnold)

And in the open-air perfection of A Candella, we savored every single bite of our flawless lunch.
A salad with Corsican ham and cheese with Corsican wine (Photo by Beth Arnold)
Followed by this gorgeous, insanely delicious frozen chocolate dessert (Photo by Beth Arnold)

So far, the day was nirvana. The Cheese Princess and I love boat rides, and we take them wherever we go.
After lunch, we climbed down Calvi's mountain and hopped on a tourist boat to the Reserve de Scandola, which can only be seen from the water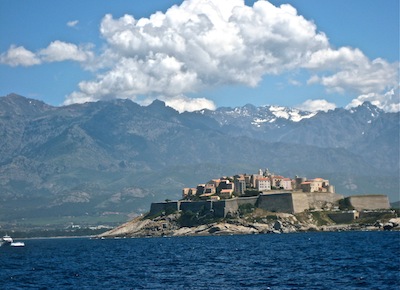 View of Calvi from the Mediterranean (Photo by Beth Arnold)

The Scandola Nature Reserve park is a Natural World Heritage Site, and has been inscribed on the World Heritage List since 1983. The definition of natural grandeur.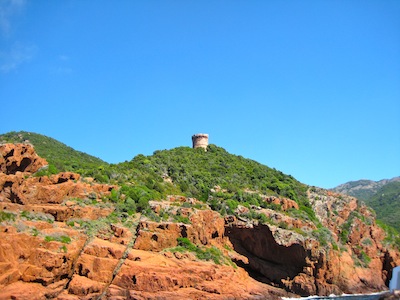 Reserve de Scandola (Photo by Beth Arnold)

To end our perfect day, we enjoyed Corsican specialties at restaurant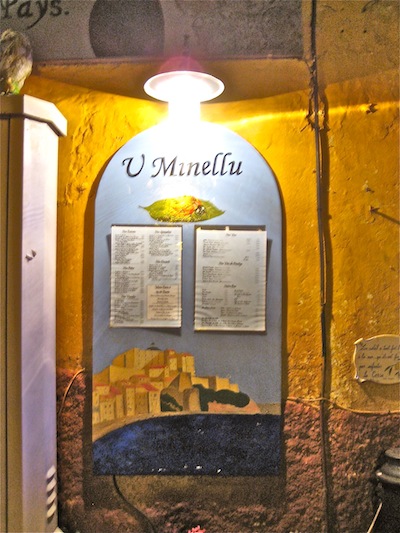 U Minellu (Photo by Beth Arnold)
Imagine a sizzling skillet of wild boar stew and a creamy casserole of cannelloni with Corsican brocciu cheese. The maquis flavors every taste and smell on this island.

The soul of the island is rooted in it--as was our perfect day.

A Candella
9 Rue St Antoine
20260 Calvi, Corsica
France
+33 4 95 65 42 13

U Minellu
Traverse de l'eglise Santa Maria
20260 Calvi, Corsica
France
+33 4 95 65 05 52

See more to come in Part 3!