Crossposted at the HuffingtonPost.com.  Comments not included here.
The sky was azure blue, and the sun had warmed Paris up to summer hot as the Lone Wolf and I made our way around the Place de la Bastille. We were headed to the Metro's Line 1 for a straight shot to the Place de la Concorde, where King Louis XVI and Marie Antoinette were beheaded. From there, we would continue by foot to the official residence of U.S. Ambassador to France Charles Rivkin and his wife Susan Tolson on the rue Faubourg Saint-Honore.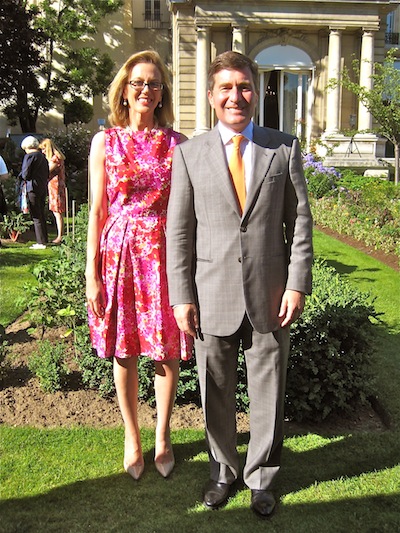 U.S. Ambassador to France Charles Rivkin and Ms. Susan Tolson (Photo by Beth Arnold)

We were attending a reception in honor of the inauguration of the jardin potager ornemental (the organic herb and vegetable garden) for the American Ambassador's residence that Ms. Tolson had initiated to support the work of America's First Lady Michelle Obama and her organic vegetable garden at the White House. This movement called "The People's Garden" at the USDA is not just a symbol to encourage all of us to eat healthily and well and to care for the earth; at the same time it's also a living, growing reality that has crossed the Atlantic to Europe. I also appreciate Ms. Tolson's effort to support her husband's official policies in France which include a "green" theme.
I was lucky enough to get a sneak peak of the garden a week before the event. Ms. Tolson and I discussed how imperative it was for each of us to take personal responsibility to protect our earth and seas. This project is a terrific example of what we can do in our gardens, containers, or in pots on our terraces to make a difference (L.W. and I planted herbs over the weekend).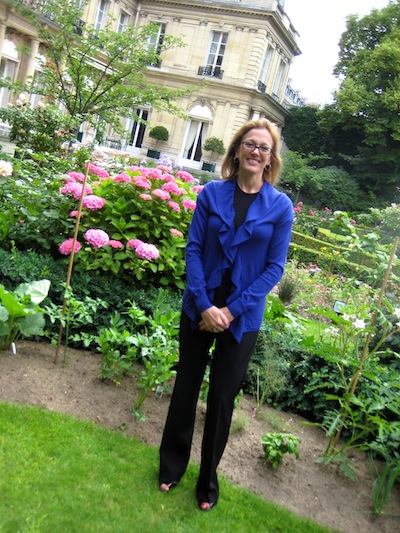 Ms. Tolson During the Garden Preview (Photo by Beth Arnold)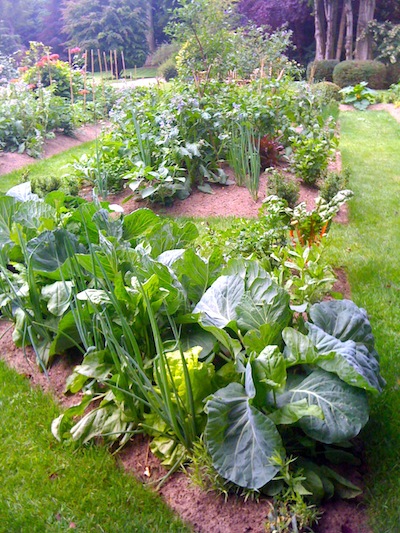 The Beauty of Le Jardin Potager (Photo by Beth Arnold)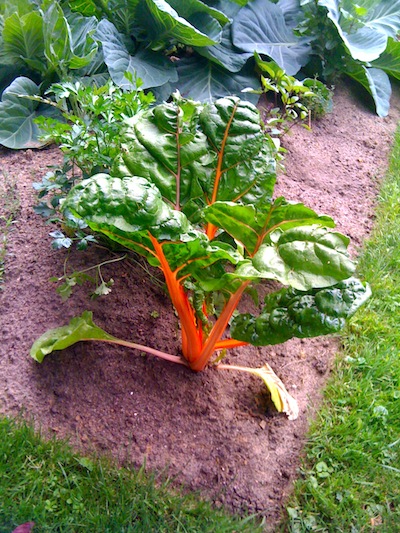 Worthy of A Matisse Still Life (Photo by Beth Arnold)

More exceptionally in Ambassador Rivkin and Ms. Tolson's case, this garden is a joint effort of both Americans and French, and quite happily so. USDA Agricultural Economist Xavier Audran asked students at the horticultural school Ecole du Breuil if they would like to be involved in the garden's creation. They jumped at the chance and spoke to their professor, Herve Dardillat, who directed their work, from design to planting to the finishing touches of identifying signs of exactly what-is-what.
As we all well know, the French detail to gardening is exquisite. The students planted a variety of vegetables and herbs, including tomatoes, artichokes, and rhubarb; basils, tarragon, and mint; strawberries, blackberries, and red currants. And I would be remiss if I didn't mention that the Pioneer - DuPont Corporation helped sponsor the garden.
Guests to the residence will find the garden produce on menus whenever possible, and Ms. Tolson also has other plans for the garden, including cooking events with chefs.
The Lone Wolf and I arrived at the gorgeous residence and glided through the blue salon before stepping into the garden, where a tent had been set up with cooling drinks and delicious hors d'oeuvres that were beautifully presented with herbs and blossoms from the thriving garden.
(Photo by Beth Arnold)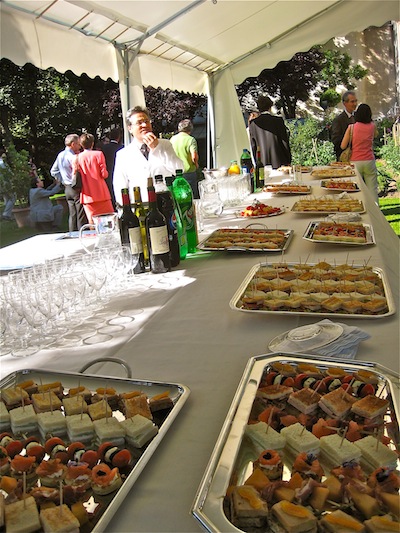 (Photo by Beth Arnold)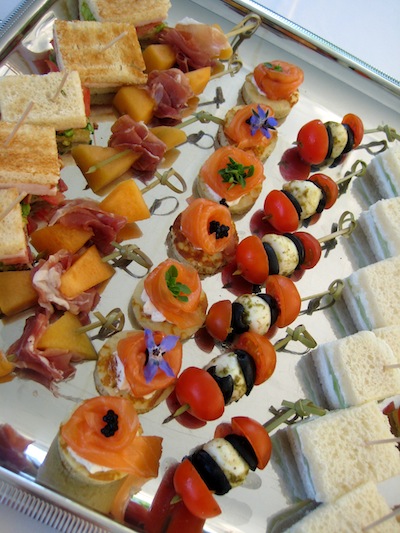 (Photo by Beth Arnold)

The students' plans and drawings were displayed, and they, their friends and family proudly looked over their appetizing work.
"A Vegetable Garden to Eat" (Photo by Beth Arnold)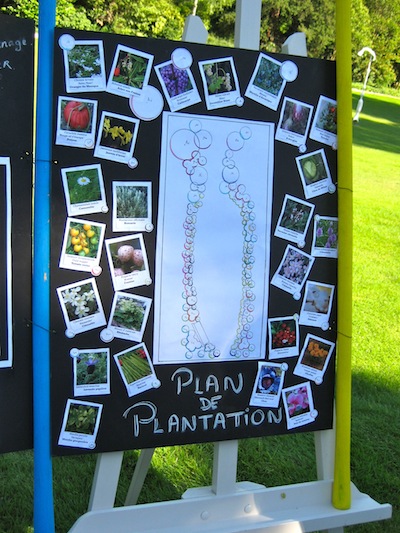 "Plan de Plantation" (Photo by Beth Arnold)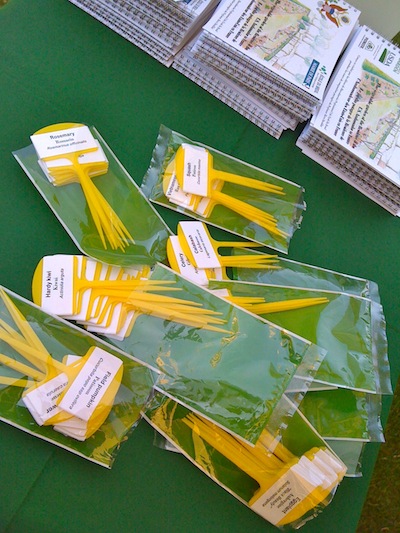 (Photo by Beth Arnold)

Ms. Tolson spoke to the gathered assembly and then presented the students with framed certificates.
(Photo by Beth Arnold)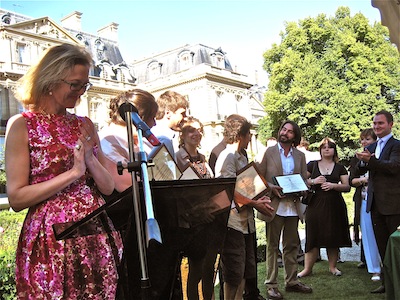 Presentation of Certificates (Photo by Beth Arnold)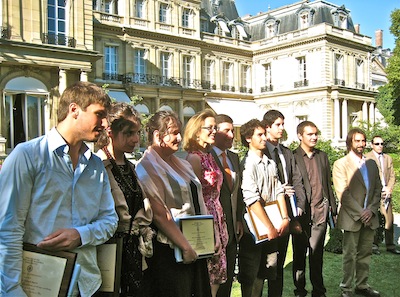 Left to Right: Mr. Thibault Bigeon, Ms Ivanne Gribe, Ms. Audrey Geeraerts, Ms. Tolson, Ambassador Rivkin, Mr. Simon Cathelain, Mr. Alix Eoche-Duval, Mr. Sylvain Lefevre, Professor Herve Dardillat (Photo by Beth Arnold)

Ambassador Rivkin and Ms. Tolson cut the ribbon and the organic herb and vegetable garden was officially inaugurated.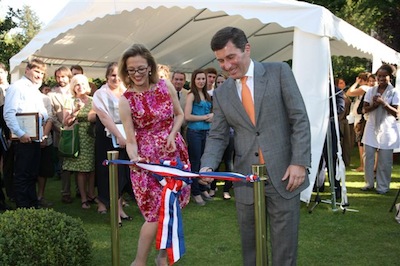 (Photo by Patrick Maulave, US Embassy photographer)