Crossposted at HuffingtonPost.com.  Comments not included here.
The Lone Wolf and I slipped onto the TGV and sat down in our single seats facing each other in the First Class car. We were escaping from Paris. Yes, even though it's pleasure to live here one still needs to get out of town. And it was a fast 46 minute train ride to Vendome
(pictured below), where we were picking up a car. In fact, I didn't even finish making my "To Do" list before we arrived and hopped into our darling little Fiat that was a cross between a Volkwagen Beetle and Mini-Cooper in which we would sportily zip around the Loire for the next few days.
We were headed to chateau country. Better than that, we were checking into a chateau-B & B, the divine Chateau de la Barre, which is near tiny village Conflans-sur-Anille in the Sarthe department in the Pays de la Loire region of France. The chateau is owned by the Count and Countess de Vanssay, whose family it has been in since 1404. Countess Marnie de Vanssay is our new Grace Kelly--a beautiful former model who happens to be American and became a countess when she and the count (Guy) married. Marnie and I had gotten to know each other through social media, and she had invited the Wolf and I down for a weekend ages before. It had taken us months to get there, but we were on our way now. We couldn't have been happier.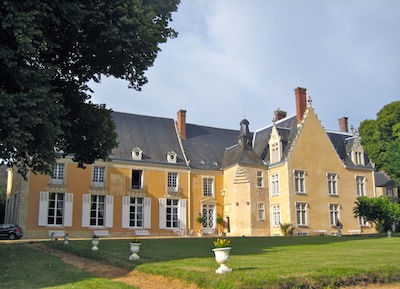 Chateau de la Barre (Photo by Beth Arnold)