Crossposted at HuffingtonPost.com.  Comments not included.
When I dream of Corscia
, I see a horizon with sparkling blue sea touching electric blue sky as I smell the fragrant maquis in its breezes. I slip into cool water and take a long swim, wondering at the sea life around me.
The Lone Wolf and I fell in love with Corsica on our first trip to the island, when we had cruised there on a ferry from Nice. We drove our car off the boat and into the city of Ajaccio, where Napoleon Bonaparte had sent some of his plunder to his uncle, the powerful Cardinal Fesch. This collection plus more is housed in Cardinal Fesch's palace and is a very well-hung museum .
On this trip, we had decided to go north, first to Calvi and then to explore the Cap Corse. My guidebook had enticed us with this:
While Corsica is traditionally an agricultural and cattle-breeding island, the Cap Corse headland is staunch fishing country. The region's fisherman travel far out to sea to catch lobsters, and seafood is the region's gastronomic delicacy. The landscape and way of life of this region is much like the French region of Brittany - but with sun."
You can see the appeal.
You can read Parts 1 and 2 of our trip, here and here.
The morning L.W., the Cheese Princess, and I left Calvi, we were armed with a perfect little route through the mountains that our new friend, the owner of our favorite Calvi restaurant, A Candella, had given us. He didn't include our first actual stop but we heard the siren call of Domaine Orsini as we drove by and had to turn in. What a sophisticated operation for Corsican products (not unlike the Napa Valley)! They had private seating areas for each tasting party with spitting buckets built into the coffee tables, and you could degust everything from candy to jam to wine. Was it fun? I'll say.
Second stop was for more degusting at the Domaine D'Alzipratu, which wasn't as tourist glitzy but a more classic country-French-looking cellar. We tasted some incredible red wines at this vineyard owned by Cecilia and Pierre Acquaviva. (What a fabulous family name, and I would secretly like to name myself this.)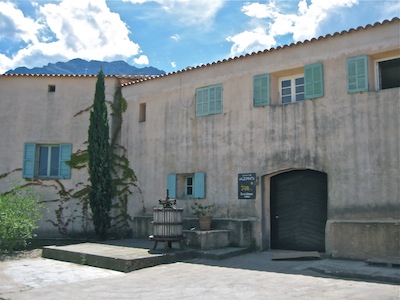 Domaine D'Alzipratu (Photo by Beth Arnold)

I drove further up through the mountains, where we almost always had a stunning vision of the sea. The roads were narrow and steep, doable if a little nerve-wracking at times.
I had to get used to driving on mountainous scary roads when we lived in the South of France in a village called Collioure, which is three villages up from Spain on the Mediterranean side. Many times we took visitors to Figueres to see the Salvador Dali Theatre-Museum or to his coolly crazy beach house outside of Cadaques in teeny Port Lligat. (Oh, how I'd love to own it.)
Driving along the Costa Brava was better than the Cote d'Azur because it's not as built up. The Lone Wolf would be tooling along the curvy mountain roads, and I'd say, Oh my God, that's beautiful BUT DON'T LOOK! He couldn't always go on my guided trips for friends and family, and I had to learn to get over my fear of driving heights. Hence, I was driving on this trip.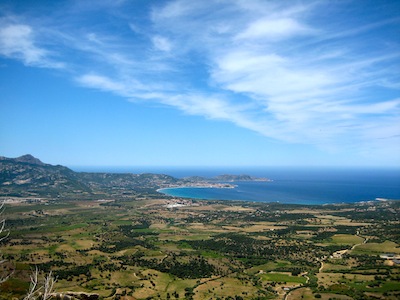 Calvi in the Distance (Photo by Beth Arnold)

We arrived at the restaurant where we 'd planned to stop for lunch sooner than we'd thought, so we opted to drive ahead to the charming village of San-Antonino which sits on top of a mountain with splendid views all around.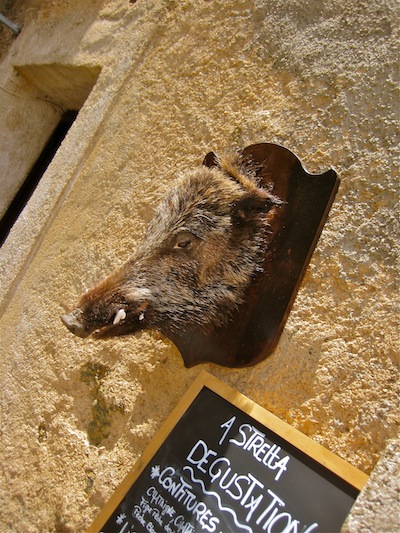 In San-Antonino (Photo by Beth Arnold)

Pork but specifically wild pigs are big in Corsica. Since we come from the land of the Arkansas Razorbacks, we kept our eyes wide open and searching so we could see some. The last time the Lone Wolf and I were in Corsica. I chased some pigs down the road trying to get a good picture of them. They were spooked and wouldn't give me this satisfaction as L.W. drove along behind me and laughed.
We loved this head of a sanglier (wild boar) though we really wanted to see his great-grandson in the flesh. But we opted for a simple restaurant with the view below.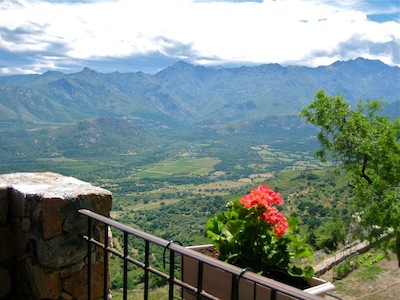 San-Antonino Terrace (Photo by Beth Arnold)

We were on our way to Pigna and famous music box shop Scatt'a Musica that entices people from all over the world.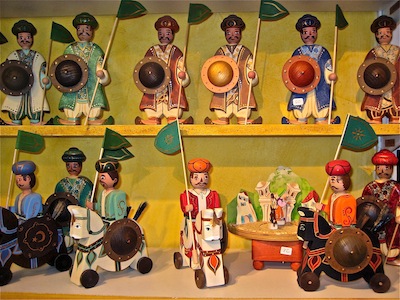 At Scatt'a Musica (Photo by Beth Arnold)

L.W. became a little cranky about riding on the slow mountain roads, but when we arrived at our lovely Hotel Pietracap outside of Bastia, he perked up. This was a hotel that we all loved, with our comfortable modern rooms and balconies with a sea view all the way to Elba, a pool that lapped up our hot bodies and imaginations as we all laid by the water and read our Stieg Larsson books.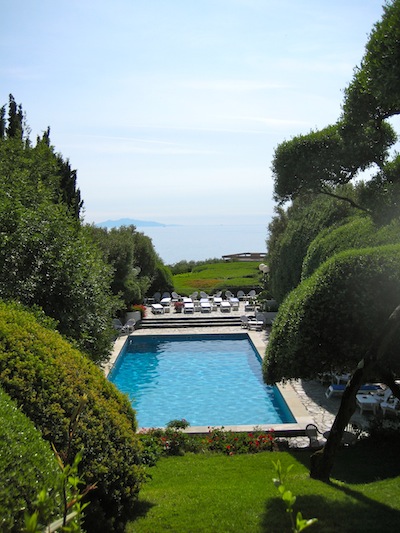 Hotel Pietracap (Photo by Beth Arnold)

This is where we spent our next few happy days. The first night we were there, our hotel concierge steered to us Chez Hugette for dinner in Bastia. Let me just say that we loved it so much we dined there twice in the old harbor as the sun went down, and the lights went up. Gorgeous...not to mention the exquisite seafood.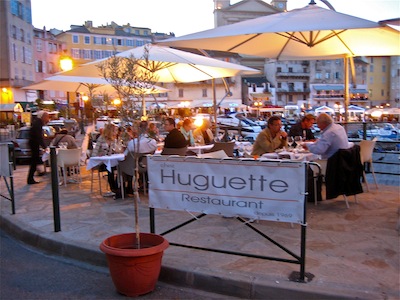 Chez Hugettte (Photo by Beth Arnold)

Among the delicious dishes we ordered: local oysters, soupe de poisson, calimari, octopus, and lobster that filled our taste buds with happiness.
One of our favorite stops in Bastia was the Cap Corse store. The Cheese Princess had become quite fond of Cap Corse as an aperitif before dinner.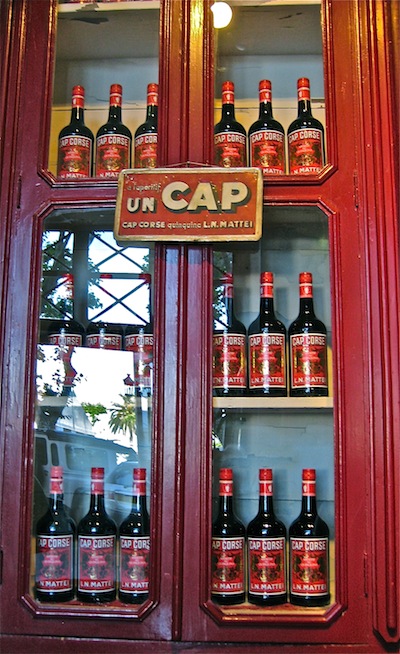 Cap Corse Mattei (Photo by Beth Arnold)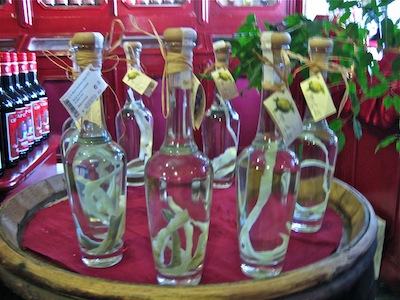 An eau de vie (Photo by Beth Arnold)

We decided to take a day to drive around the Cap Corse (the trip was supposed to take four hours without any stops), and we would break for a lovely lunch along the way. The day was sunny and hot, and the road snaked along the sea as we motored to a village called Macinaggio, where we stopped to eat. We'd hoped for a bit more seaside charm but time was ticking, and we decided we'd give a restaurant called U Culombu a try. The food was okay...fine. The problem was that the waiter tried to stiff us for 10 euros when we paid. The Lone Wolf paid him while I took the change without checking the bill. (A travel no-no.) When L.W. looked at the cash I handed him, he beat it back to the place and talked to the manager. He got his money back, but we were all soured by the feeling that this was a place that tried to rip-off tourists. I'd skip the whole town.
The drive around this wild headlands is a feast for the eyes. The west side reminds me of driving up Highway 1 in northern California. You know how gorgeous it is--but exhausting, too.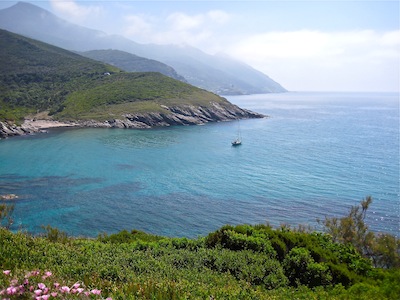 Cap Corse (Photo by Beth Arnold)

The next time, we'd skip driving around the whole peninsula--and take the western route to cliff-side village of Nonza. Have lunch (without wine) and drive back the way we came. One's wits must be in full-control. Meeting a tour bus on this route is hideously frightening.
(Photo by Beth Arnold)

The Cheese Princess and I wanted nothing more than to take a ferry to Sardinia and continue on. One of these days, my dear...one of these days.

Domaine Orsini
Email: [email protected]
Telephone: +33 4 95 62 81 01
Domaine D'Alzipratu
Email: [email protected]
Telephone: +33 4 95 62 75 47
Scatt'a Musica
Email: [email protected]
Telephone: +33 4 95 61 77 34
Hotel Pietracap
Email: [email protected]
Telephone: +33 4 95 31 64 63
Chez Huguette
Email: [email protected]
Telephone: +33 4 95 31 37 60
Cap Corse Mattei
Telephone: +33 4 95 32 44 38
                                                                ---Beth Arnold in Paris