Separated from me at birth--in spirit if not by looks--my friend Katherine Mosby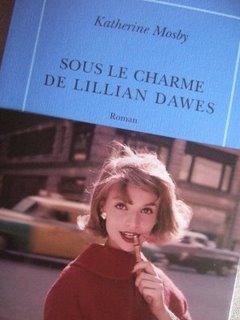 was in town to meet with her French publisher, La Table Ronde Editions.  With the publishing success in France of her novel The Season of Lillian Dawes, they were bringing out her first novel, Private Altars (which will be called Sanctuaires Ardents here), this fall.  Hurrah!
I have known Katherine for many years, and I hadn't seen her since last June when we had taken ourselves on a much-too-short road trip to Burgundy.  Oh, yes, we had a grand girlfriend time.  Old friends, good food and wine, and road trips go together like fried okra and fresh tomato slices in the South.  Now, if we'd only had spa treatments to pamper us, the trip would've been absolutely divine.
Sadly, Katherine's mother had died since our Burgundy trip, and we had much news to recount, gab or rant, and console each other over.  When we see each other we tend to talk non-stop, hopping from one subject to the next and back again, covering a lot of territory as good girlfriends do.  We had the afternoon to fill ourselves up with our new stories,  and then we would return to my new pad in the 20th for dinner with the Lone Wolf, after a drink at the Hemingway Bar, of course.
As luck would have it, Katherine's swish hotel was not far from a shoe store where I had to go buy a pair of mile-high platforms that I'd seen in the window a few weeks before.  (Ladies, for those of you who tweet with me, here they are!)
These Michel Perry darlings were almost exactly like a pair I'd bought in London in 1973, which I kept until they rotted.  I couldn't believe they'd been reincarnated and come back to me in Paris.  I shall tell you that they look fantastic on my feet.
But on the way to retrieve my shoes, Katherine and I happened by a window that caught my eye.
I loved every piece of clothing and jewelry that dressed the window as well as the gorgeous items that peeked at me from further back in the boutique.  Katherine and I were both intrigued and stepped into this retail heaven I know now as Liwan. 
How much do I love Liwan?  Let me count the ways. 
I loved the silk duvets and pillows whose fabrics were elegant and chic.
I longed to make my own banquette in the big and beautiful country house that I don't yet have...a villa that fits between bright sunshine and glittering blue water like a green and fragrant jewel.
I would adore dressing this way in summer in that lovely country house.  I thought of Scheherazade who might have seduced her husband-king with the accoutrement of a Liwan lifestyle in her Arabian Nights tales.
But Liwan is full of the most sophisticated, classical, and lovely garments and household items that are all handmade by artisans with luxurious fabrics.  I embraced them like they were my first-born.
Katherine saw her chance and chose wisely and well--including some very smart suede slippers--for the bounty she would later pack up for New York. 
In the meantime, my desire kept growing.  Couldn't I just see myself soaping up with these fantastic bars made in Lebanon?  The store is stocked with exquisite towels, robes, linens, cotton and silk tunics and jackets.  There are dresses that feel like one is wearing a cloud.  There is jewelry and tiaras to choose from, and that's not all.
This for the Yoga enthusiast.
The delightful store is the baby and brainstorm of three multi-cultural creative women.  Amazing designer Lina Audi is Lebanese, as is Dina Haidar who mans the Paris store with Swedish colleague Christine Bergstrom. 
Dina Haidar and Christine Bergstrom 
You cannot come away from this boutique and not be impressed with the taste, style, and welcome hospitality of these ladies.  Their vision speaks for itself.
Liwan
8, rue Saint Sulpice
75006  Paris
Telephone:  +33 1 43 26 07 40
Within France:  1 47 03 05 31 (If one is dialing in France, leave off the 33 and add a "0" before the "1"...always. 
                                                                      ---Beth Arnold in Paris