Image via Wikipedia
In France, we are lucky to have beautiful markets full of vegetables and fruits, meats, poultry, and fish, artisan sausages and cheese, fresh eggs, jams, jellies, and honey not to mention butter full of crusty salt that is cut from huge rounds. French butter is spreadable gold on still warm baguette, which you can sometimes be lucky enough to find at the markets as well. Oh, woe are our waist lines with such bounty.
There is so much more, and if you've ever been to France, it is likely that you've filled bags with these goodies and carried some of them home. Tapenades, terrines, a hearty cassoulet in a big jar, sweet lavender soaps, Herbes de Provence, caramels, chocolates, and salt.
These markets are a part of French heritage and culture that the French are quite proud of--and everyone who visits absolutely adores. Open-air markets seem closer to the Earth than a huge Costco or Sam's Club. It is experiential shopping, especially buying food from the farmers or winemakers who produce it themselves. The personal touch always makes a difference no matter what individualized communication or business transaction is occurring.
Our need to connect to others as well as tapping into deep, primal parts of ourselves is a potent component of the culture surrounding planning, shopping, cooking, and serving a simple or grand meal to share with family or friends.  We break bread with others, therefore we are.
In my neighborhood--the 20th Arrondissement--we have a huge and marvelous market with what seems like a mile of fine foods. It is le Marché Belgrand, and it runs along the Square Edouard Vaillant by the hospital where Edith Piaf was born, and turns onto the rue Belgrand and continues until the Place Edith Piaf.

In this last embrace of summer, here are a few photos...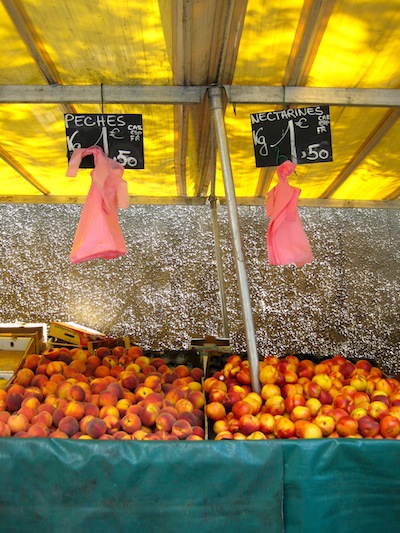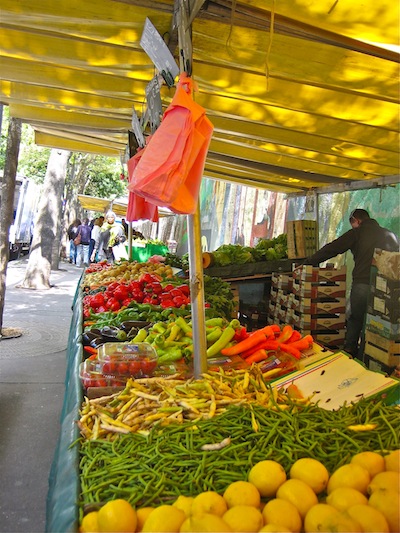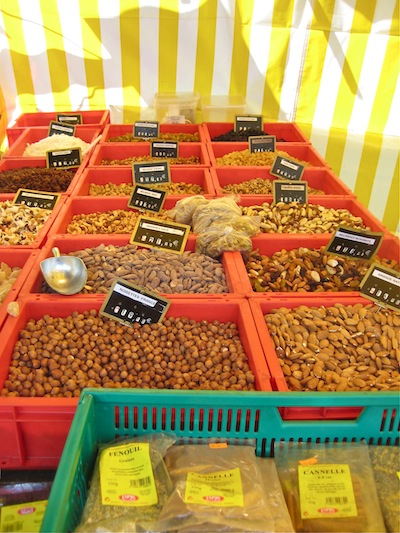 And if the multitude of vegetables, fruits, Spanish and Portuguese meats, shellfish, cheeses, olives, and nuts aren't enough for you, a good reason to come is to see the mural below. It's even better to get its full artistic jolt with the bustling market going on around it. After all, what's more Parisian than shopping for food and looking at art?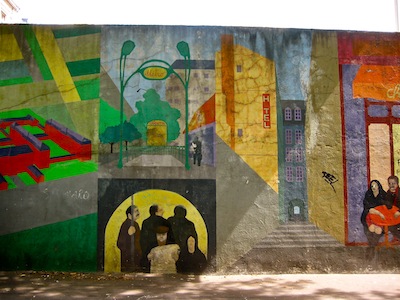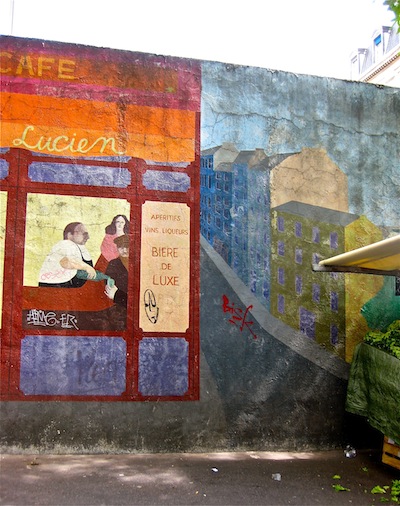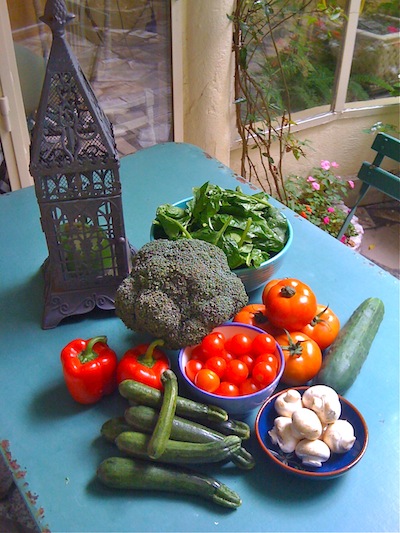 Oh, and I bought all of this for 12,89, euros and centimes. I thought it was a bargain. What do you think?
Unless otherwise indicated, photos by Beth Arnold.

---Beth Arnold lives and writes in Paris.