Image via Wikipedia
Long about June, our friends Hooker and Greg came to visit us in Paris. The four of us with other dear friends and varied acquaintances had partaken of many high times and jovial dinners together in Little Rock, Arkansas, where the Lone Wolf and I once lived and Greg and Hooker still do. But this was the first time these designing men had come to Paris so we could have a convivial fete on or near the Seine.
A few days before they arrived, I was looking for a movie on TV and happened upon Isadora, the 1968 film about Isadora Duncan in which Vanessa Redgrave starred. I knew a few of the fascinating details about the Duncan family's life in Paris, since our friend Dolly West had known them here. One thing I hadn't realized was that Isadora's two darling children, Deirdre, whose father was theater designer Gordon Craig, and Patrick, whose father was Paris Singer, one of the many sons of sewing machine magnate Isaac Singer, had died along with their nanny when the car they were sitting in rolled off into the Seine. They all drowned.
The image haunted me. This is a tragedy from which a mother could never recover.
I did a little research on Ms. Duncan and discovered she was one of my neighbors at Pere Lachaise Cemetery. And so when Hooker and Greg were here, we set out to find this diva of dance. What we were looking for was for her name on a marble plate at the columbarium. Ms. Duncan had been cremated, and from what I'd read, her ashes were interred next to those of her cherished children.
And so after following the numbers on the marble plates, we eventually found the place where this wonderfully wild woman was laid to rest.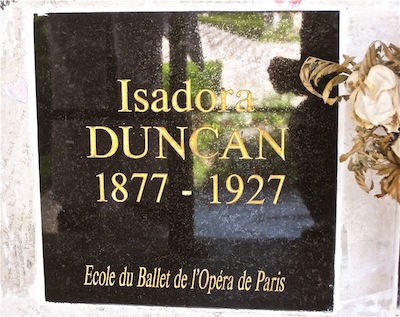 Isadora Duncan led a most extraordinary life to say the least. From dropping out of school as a young girl because it constricted her individuality (still a lesson to be learned for our educational system the world over) to birthing modern dance to doing as she pleased, both professionally and privately, she followed her own path. She left the United States and went first to London and then came to Paris. It is in Europe where she became a world-renowned dancer and celebrity.
From Wikipedia:


Montparnasse's developing Bohemian environment did not suit her. In 1909 Duncan moved to two large apartments at 5 rue Danton, where she lived on the ground floor and used the first floor for her dance school. She rejected traditional ballet steps to stress improvisation, emotion and the human form. Duncan believed that classical ballet, with its strict rules of posture and formation, was "ugly and against nature"; she gained a wide following that allowed her to set up a school to teach.

Duncan became so famous that she inspired artists and authors to create sculpture, jewelry, poetry, novels, photographs, watercolors, prints and paintings of her. When the Théâtre des Champs-Élysées was built in 1913, her likeness was carved in its bas-relief over the entrance by sculptor Antoine Bourdelle and included in painted murals of the nine muses by Maurice Denis in the auditorium.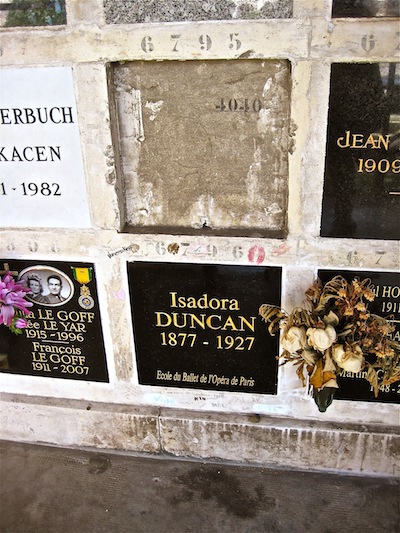 We found Ms. Duncan with "The Paris Opera Ballet School" as the only inscription in the marble.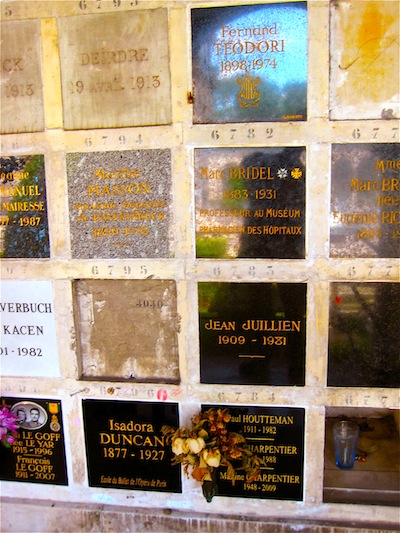 But we found no inscription on the surrounding stones for her Deirdre and Patrick. I will be their mother now and wonder where they are, the poor lost babes. Has Ms. Duncan gathered them under her skirts behind the stone facade?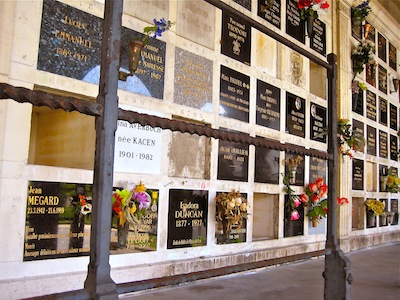 From Wikipedia:


By the end of her life Duncan's performing career had dwindled and she became as notorious for her financial woes, scandalous love life and all-too-frequent public drunkenness as for her contributions to the arts. She spent her final years moving between Paris and the Mediterranean, running up debts at hotels. She spent short periods in apartments rented on her behalf by an ever-decreasing number of friends and supporters, many of whom attempted to assist her in writing an autobiography. They hoped it might be sufficiently successful to support her. In a reminiscent sketch, Zelda Fitzgerald recalled how she and F. Scott sat in a Paris cafe watching a somewhat drunk Duncan. He would speak of how memorable it was, but what Zelda recalled was that while all eyes were watching Duncan, Zelda was able to steal the salt and pepper shakers from the table.

This may sound Grey Gardens sad, and it might have been. But I must say I love both these women who lived such big imaginative lives. We all remember they trod the earth and were messily grand. They didn't slip by unnoticed. Their shadows and light were a public part of who they were. We all have this, no matter how we hide it from others or ourselves.
Of course, there is much more to know about Miss Duncan. Did you realize she was a Soviet citizen, when she famously died. She was on the French Riviera--in Nice. A long, flowing hand-painted scarf that was stylishly wrapped around her neck got tangled up with the open-spokes of the wheels and rear axle of an open car as her man friend drove away. She was only 50 years old.
And this is her view now...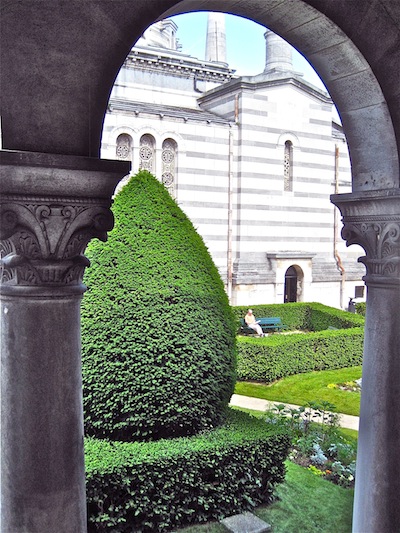 May Ms. Duncan and her little ones rest in peace with gentle dreams of barefoot dancing.

All photos taken by Beth Arnold.
                                                                    --Beth Arnold in Paris