After the catwalks of Milan and Paris, Fashion Week in Tbilisi? As curious as it may sound, the answer is yes. It was a whirlwind of Georgian feasts, tours of the beautiful and textured city, museums with historic icons covered in jewels, parties galore, and show after show of hungry young designers who wanted to impress with their visions of what Georgian fashion could be. So many delicious layers to peel away in discovery. What could be more fun!

The small Republic of Georgia, located strategically at the crossroads between Europe and Asia, along the historic Silk Road routes, is a cultivation and clash of those dual civilizations. Think about the alchemy of East and West that stirred the Georgian pot, and how richly veined the history and culture are. In more recent memory, Georgia's long occupation by the former Soviet Union was in lock-step with the other countries around them. The concepts of art and fashion were officially snuffed-out to make room for a sea of Soviet conformity, and the high culture of fashion was lost for a time, if not forgotten.
No longer. Georgia fashion is back! President
Mikheil Saakashvili
, elected in 2004 at the ripe age of 37, is reinvigorating his nation, replacing the old--those who retain the Soviet mindset--with a younger generation who can build a new Georgia, free of U.S.S.R. attitude. A wind of passionate, creative energy is blowing through, which we were lucky enough to ride in this Fashion Week. Part of the allure of fashion is its ability to express and transform us. Fashion becomes symbolic of our interior selfhood as well as of our personalities and status to those around us. It is a material consciousness and representation of us, moving through our public lives and relaxing at home; how we, our friends, cities, countries, continents, and globe are tuning into the vibes of our times, and all the news, politics, economics, arts, etc. that go into them.
And so as Georgia is exploring its fashion identity, the simmer of young Georgian designers has come to a boil. Their visions are bubbling up and out with their nation's second Fashion Week, held October 22 - 26. The striking, immensely resourceful, and talented Sofia Chkonia issued the invitation to my husband, James Morgan, me, and others in the Parisian and European press to experience Georgia for the first time, and we were delighted to accept her kind offer.
We hopped a direct flight from Paris to Tbilisi. Upon arrival at the modern Tbilisi airport, I flipped open my computer and published a HuffPo blog on the free Wifi, while we were waiting on our luggage. Boom, done! Plenty of airports don't offer this ease and service without more stress and/or paying a fee. Afterward, we were delivered to our plush Marriott Hotel by an excellent driver and one of our hard-working translators and guides for the next few days, Tato Kharchilava.
The opening night was held in the center of old Tbilisi, on the Metechi Bridge over the Kura River, music pounding, wind blowing through our hair, excitement rippling through the crowd. The seasoned designer Avtandil acquired the lucky slot to initiate Fashion Week in this spectacular location.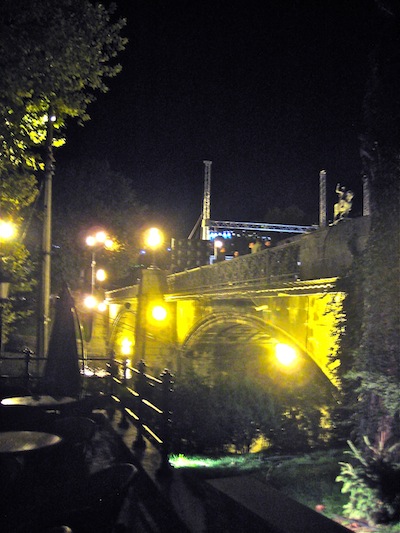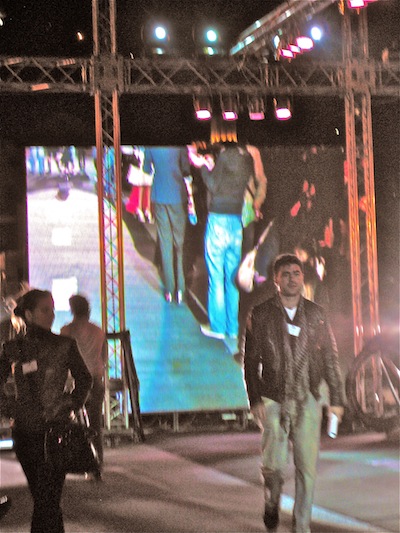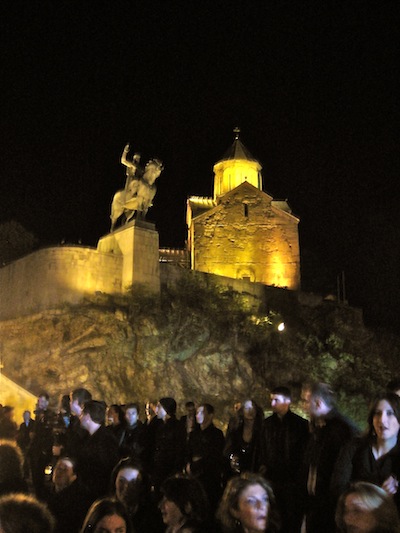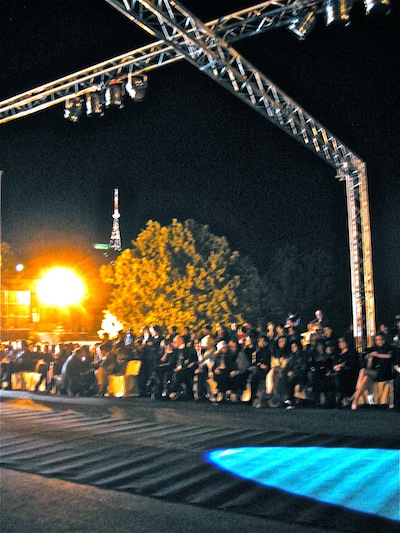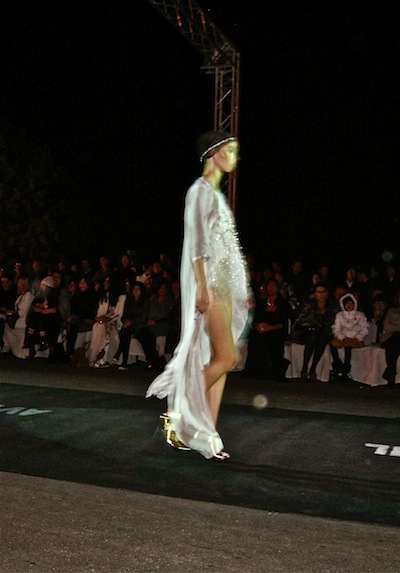 The energy of the bold evening was flow, the breeze and the gowns floating through them. My take on the Atvandil collection: What happens at midnight, when fairies and zombie fashionistas slip on their frocks, and come out to play. This, for me, a Georgian fairy goddess.
Over the next few days, we acquired a sweet taste of Georgia on our tours around town, the shows, our endless courses of lunches and dinners, and through the people we met along the way.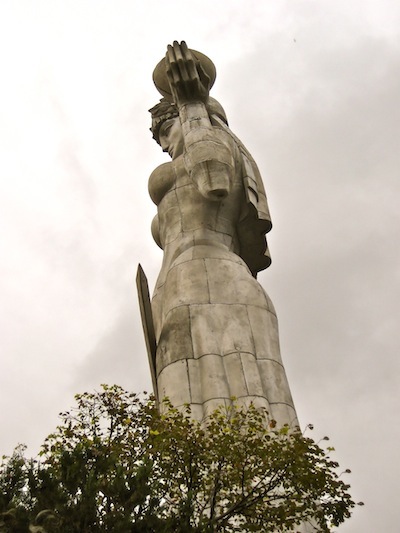 Note to Self: Georgian mothers are revered, and this is Kartilis Deda, the Mother of Georgia statue looking down at the city of Tbilisi. "The statue is said to symbolize the Georgian national character: in her left hand she holds a bowl of wine to greet those who come as friends, and in her right hand is a sword for those who come as enemies." Not a bad icon for women and mothers everywhere, pour some wine or kick a butt.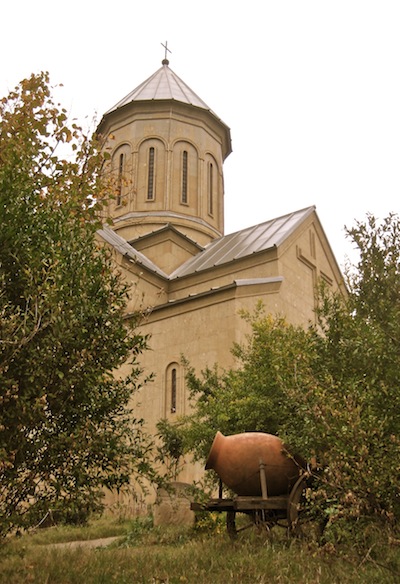 Sioni Cathedral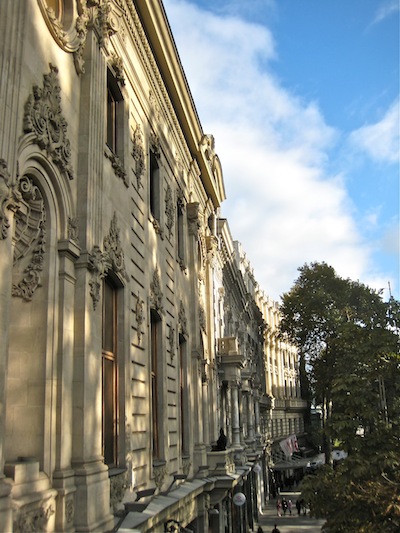 Rustaveli State Theater, looking down the street

Most of the collections were shown in Rustaveli State Theater though a few were presented in the National Library of Georgia. The last show was perhaps the best location of all, especially for the dramatic spectacle of Datuna Sulikashvili, the Theater of Music and Drama.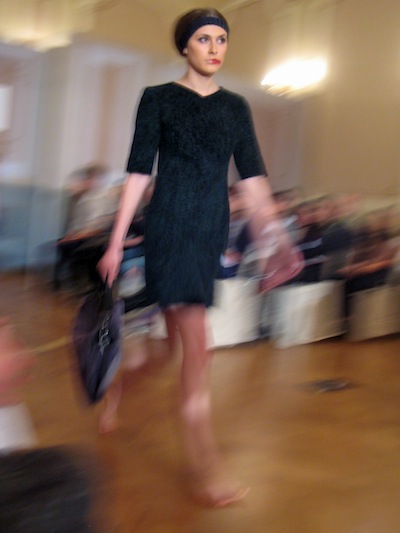 L.K. / Lela Kuliani's collection (photos above and below) was Audrey Hepburn revisited, which suits me any ole year. The fabric of Ms. Kuliani's silhouettes was a modern felt, handmade in ancient Georgian traditions from Merino wool and silk, a fur alternative. And this could be exported! Cool handbags and hats were handcrafted as well. The models' bare feet a brilliant touch.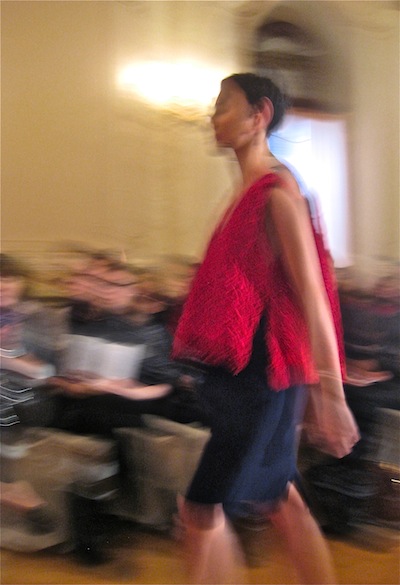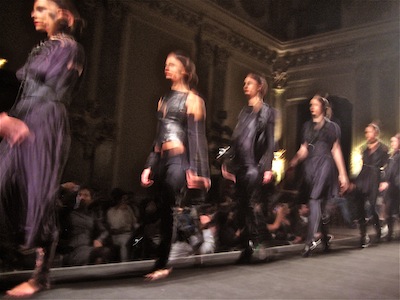 Designer George Pantsulaia gave us his edgy vision in black.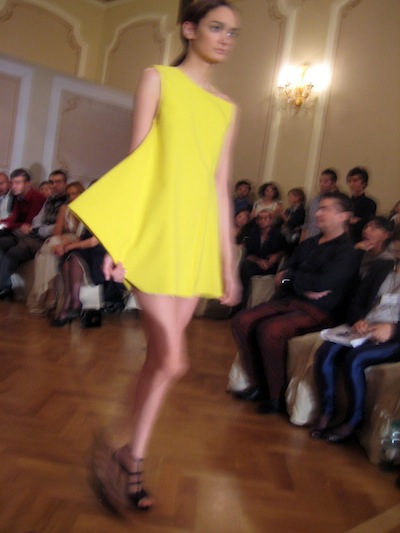 The best pieces of Irakli Rusadze's were bright and boldly shaped...like this one.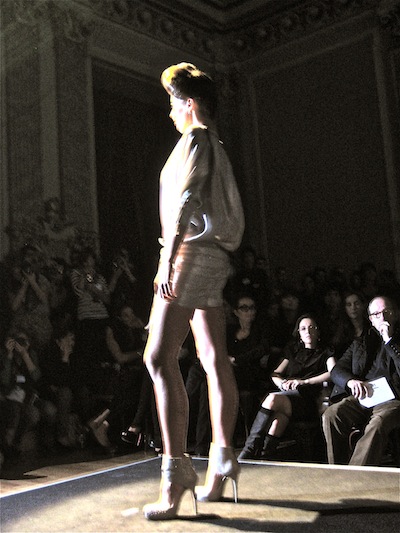 Raindrops under night beam were the source of inspiration of Zenka & Mari. Slick and soft night-time shimmer.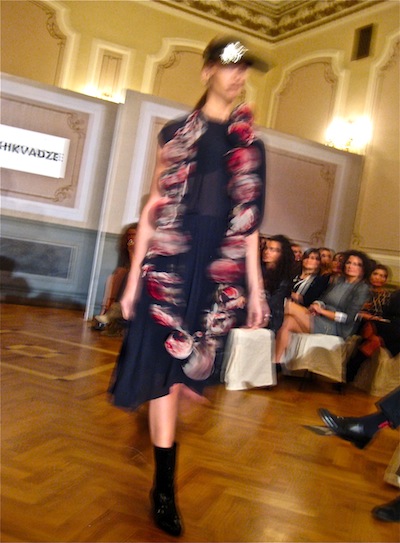 Keti Chkhikvadze chose velvet, chiffon, and linen draped in soft and classical forms. With big balls of playful giant necklaces, her collection was infinitely wearable.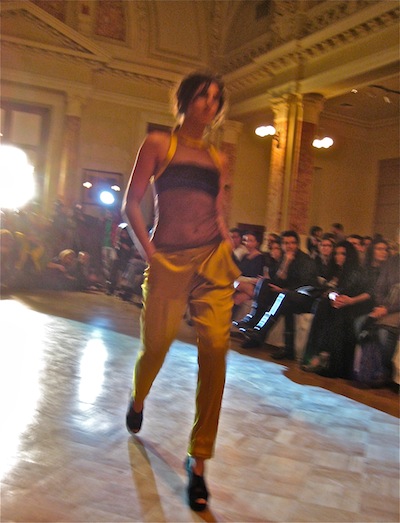 The collection of popular Ukranian designer Andre Tan was influenced by Indian philosophy and his yoga practice. Andre, please send me a saffron robe covered in fragrant rose petals!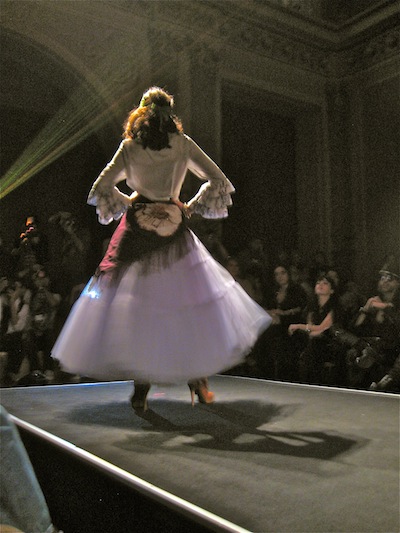 Goga Nikabadze using bright, smiling chiffon, tuille, brocade, silk, organza, more to create his Gypsy Lady collection. I'd love to wear one the next time I visit my home, the American South. Gypsy antebellum.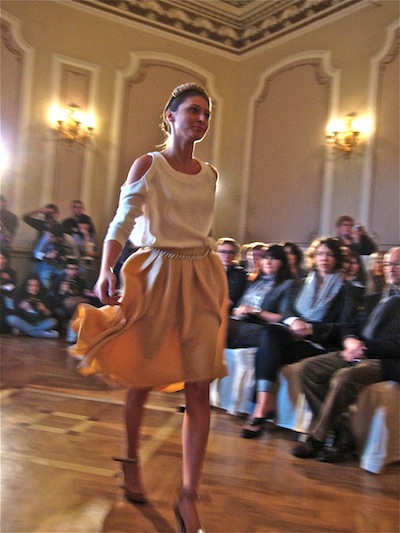 Pepela-Gola was nothing if not clean, classic, and cool. An edge of Surrealism was thrown in (and Surrealism holds a solid spot in my heart) with images of flying saucers, plates, floating in time and space.

Teona Elizbarashvili's source of inspiration for her "The Impressive Woman" collection was Botticelli's "The Birth of Venus."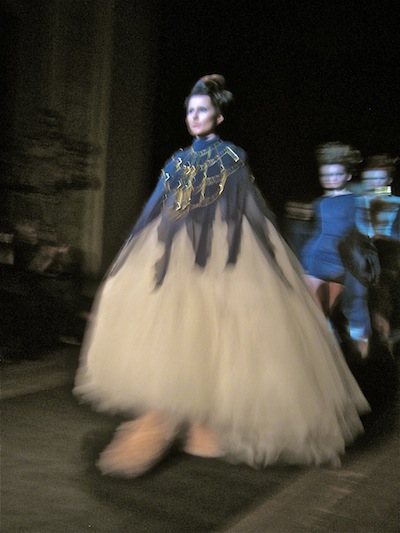 Young Mr. Bicholla was confident in his collection inspired by disabled people. Fluffy clouds of shoes drew everyone's eyes. We all wanted to play dress-up in them, and Bjork simply must have this gown.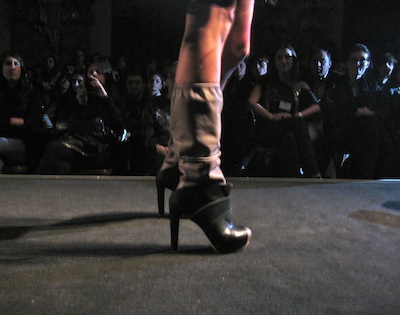 Designer of shoes and accessories, irrepressible Anuka Keburia, used her grandfather's history as the first Georgian aviator as her inspiration for this collection with the modern female aviator in mind. Immensely popular.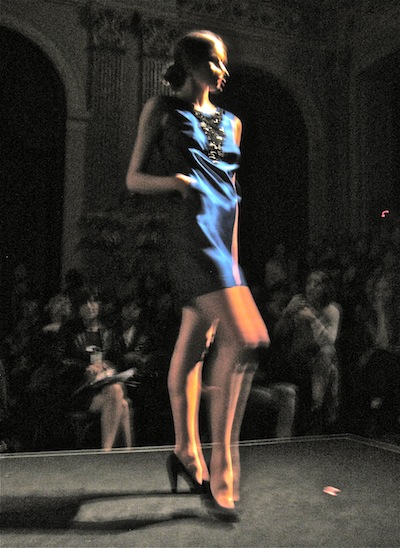 Fashion House Laura by Keti Karsavelidze and Datuna Sulikashvili. Color, fabric, flow, a bit of Mad Men.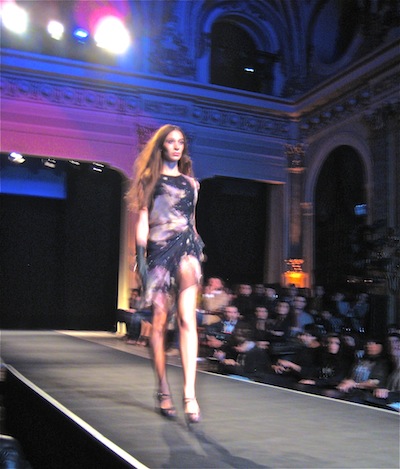 Popular Parisian designer Gaspard Yurkievich owned the catwalk with his collection inspired by Victor Hugo thinking of his lover, Juliette Drouet. From daytime to night, Yurkievich hits the right nerve.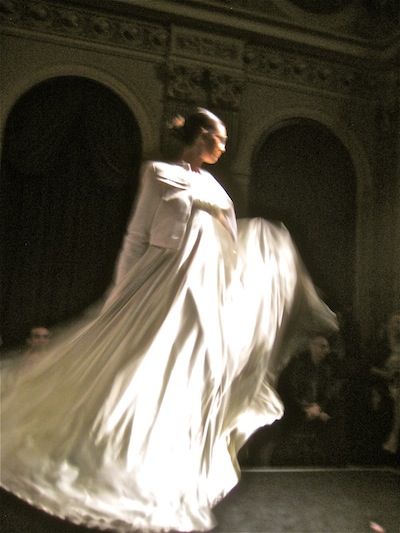 Lasha Jokhadze / Salome Kartvelishvili presented looks from military to elegant, pretty gowns we'd like to twirl in.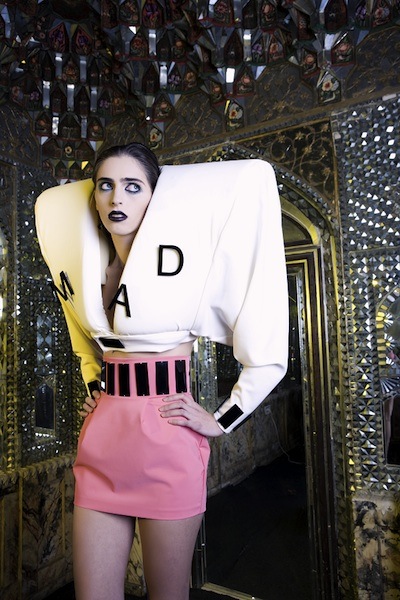 (Photo provided by Shako Nikva)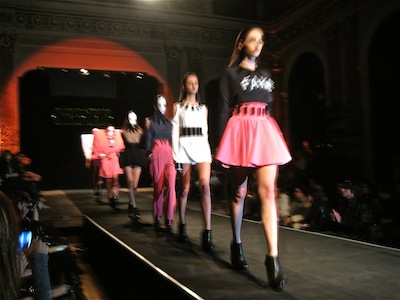 Twenty year-old Shako Nikva presented his third collection, "Modeling Emotions." Each hit the nail on the head. Where there's a will, there's a way. Nikva creatively made the most of a limited budget while following his audacious vision.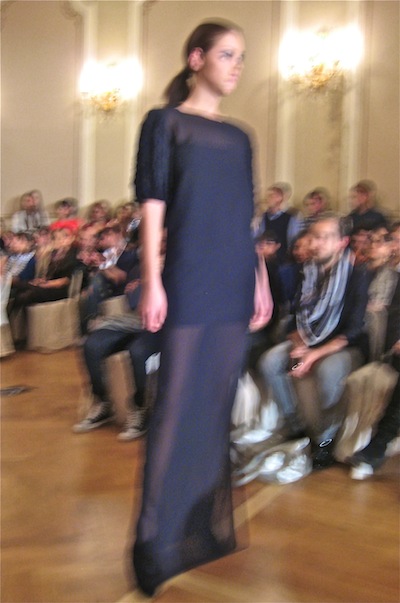 One beautiful skirt and dress after another came down Tata Nikolaishvili's runway. Short and long, each silhouette was noteworthy. The entire room zeroed in on her.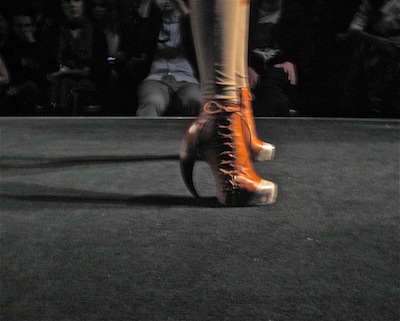 Influences of the 50's and 60's, sensual and classic, were motivations of Aka Nanitashvili in this collection. These heels are made of horn.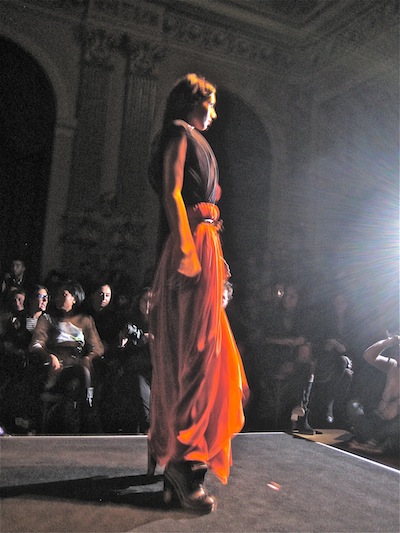 Lela Eloshivili & Teona Gardapkhadze were motivated to express the natural spirit of individuals in their Atelier Informal collection. The skirt was the pivotal piece.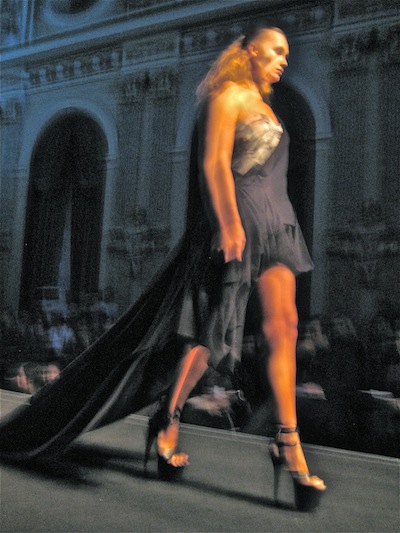 The mythological Persephone--"descent and return of the goddess bringing about the change of seasons," birth, death, and nature--inspired Italian design duo Simone Costa and Alesandro Biasi of A-Lab Milano. Their sexy powerful collection was shown with a compelling background video that Biasi also created.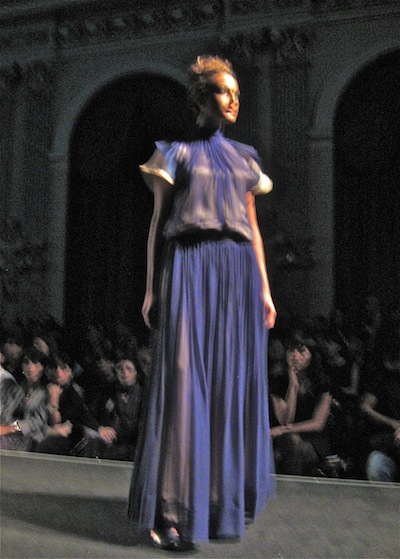 The collection of Lako Bukia was inspired by Soviet architecture and is dedicated to Georgian culture and religion. Structure and softness.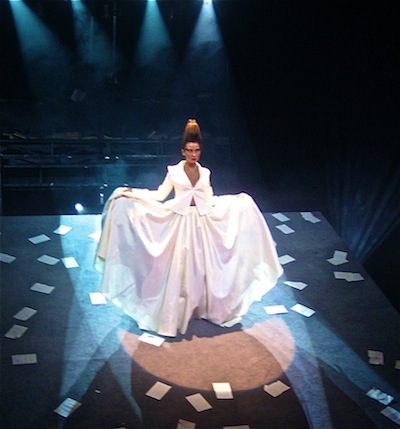 The most fabulously dramatic show came to us from Fashion House Dalood by Datuna Sulikashvili. Yes, DS also showed in a previous collection. But this sleek and classical set clicked and settled in our hearts and memories.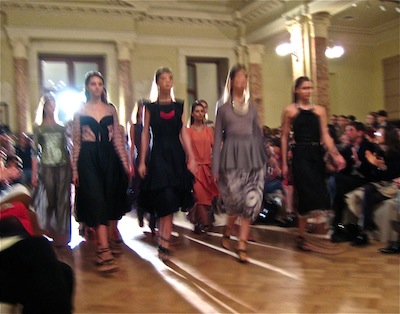 Successful Ukranian designer Lilia Poustovit says her conceptualization is romantic with ethnic background, and this will always be her brand's roots and source. 

The second Georgia Fashion Week put the spotlight on a new and growing cultural creativity in Georgia. It is one the country should embrace.  As for me, I'm looking forward to my next trip to Georgia!
Note: Apologies to Leedo - Eka Balanchivadze and Zinaida Likhachova whose shows we unavoidably missed.
In addition to Tato, thanks to our other "protocol officers" who navigated our way through Tbilisi: Gigi Gvalia (a designer in his own right), Inga Pkhakadze, Mari Morgan Sterling, Zaza Tkemaladze, and Shako Iashvili.  I'd also like to thank Salome Totibadze.
Unless otherwise indicated, photos by Beth Arnold.
---Beth Arnold in Paris.