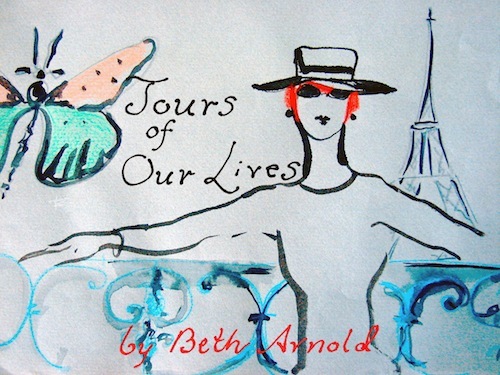 Illustration by Elizabeth Cannon

Part of an ongoing series about uprooting our lives in America and moving to France. For what's happened before, see previous Jours of Our Lives entries here.
The next morning we talked to Claire at French Home Rentals, who called someone named Ruben, who was to meet us at the apartment, 14 rue du Perche, just around the corner from the Picasso Museum. She also arranged a taxi that could carry all Our Stuff. I didn't remember so many Paris cabs being mini-vans, but there are quite a few--and so convenient! Claire's assistance was angelic, since we were half brain-dead and still recovering from the shock of what we'd done, although the humor didn't miss us. The snarly man was at the hotel desk when we left. I again was wearing Mother's mink coat and feeling grand to be leaving, much like the Queen of Sheba, while he would have to stay in the drab little place he called a hotel.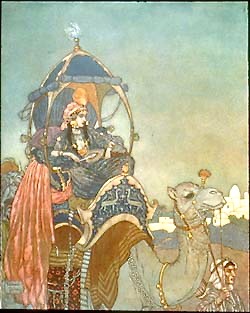 Queen of Sheba" by Edmund Dulac

We are nomads in this new life of ours, which implies we shouldn't be carrying so many bags, unless we had a caravan. We don't have a fleet of camels or even a tiny car. Therein lies a basic conflict.
I often have this problem when I'm packing for a trip. I like to have my stuff along. At home, I dress for my mood du jour. I gaze into my closet and usually something calls to me--a shirt, a skirt, a pair of shoes--that looks exactly how I feel. I slip it on, and from there, the ensemble (or lack of one) comes together. But this wasn't an ordinary trip. This was moving, traveling for months. And it wasn't like days of old, when steamer trucks carried a lady's collection of clothing. You could check two bags on the airlines but paid dearly for any more. And we carried more than clothes. We were lugging computers, files, a printer, books, Jim's paints and easel, and other business gear. We were a traveling office.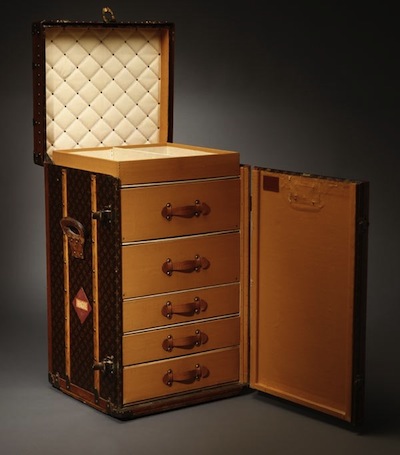 Dear Santa, please send me a Vuitton trunk (Photo via LiveAuctioneers)

Paris never looked as bright as when we drove away from the Victoria Hotel on that gray day. Ruben Milogis, a professional artist, met us at the Marais apartment. We tromped up the stairs with the baggage and were delighted with the space! Ooh la la, as the French say, and Jacques had told us it's said in thousands of ways. Perche had everything we needed--bedroom, kitchen, dining table that could be expanded, phone line, and plenty of room to spread out and live! It was perfect, and we were grateful for our timely rescue. Ruben was also plugged into the Paris art scene and could fill Jim in on painting classes.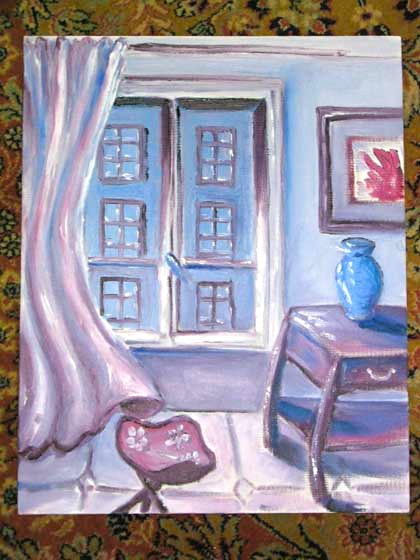 Perche painted by James Morgan while we were there

The next day we spent organizing and emptying the fettering luggage, and then we ventured out into the Marais, which we'd hardly visited before. It's a very arty neighborhood with galleries, shops, restaurants and cafés, and hardware-like stores packed with decorative metals and spools of chains. (I've found myself attracted to metal work in places around the world. I'm not sure what that's about, something for me to ponder.)
We needed to do some grocery shopping. When we turned a corner onto the rue de Bretagne, Jim said, "Something sure stinks around here." It was a wonderful fromagerie. Jim had smelled the cheese. I laughed my tush off, and he did too. It had been a long time since we'd smelled cheese on the street. We weren't in Arkansas anymore, Toto. We made a purchase there, and also up the street at the butcher's, who sold us a delicious roasted bird a little larger than a Cornish hen. We bought basic supplies at a supermarket. I'd forgotten you weigh the veggies in the produce department before you check out. I had to run back and get the tomatoes priced. We returned home and prepared our first lunch in our first Parisian apartment--bread, cheese, dates, chicken, tomato, and cucumber.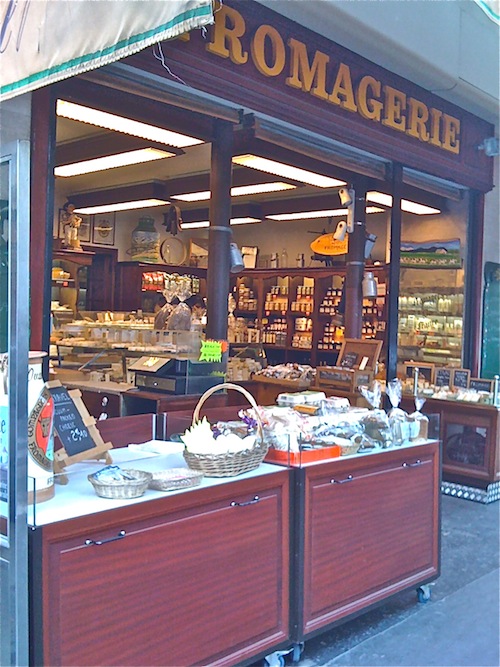 Photo by Beth Arnold
Ruben had invited us to an opening at the Louvre that night with his friend Chloe. We were thrilled, spent the afternoon on business, and then dressed quite elegantly. We were running late and didn't think time allowed for the Metro, so we rushed down the street and hailed a taxi. For the next 45 minutes, we crept down the rue de Rivoli, checking our watches. By the time we arrived, we'd missed our host and hostess and our first opening at the Louvre.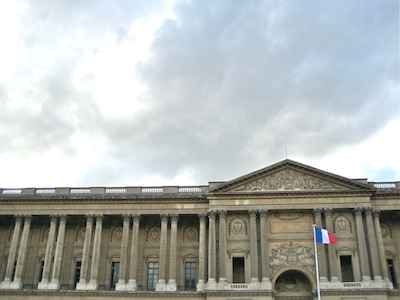 The Louvre, photo by Beth Arnold


All dressed up and no place to go, Monsieur Bubbah and Madame Bubbette completely misjudged the traffic. We stewed and stomped around a bit, berating ourselves and each other. Then we glided into the Hotel Meurice and consoled ourselves with an American martini.
Beth Arnold
Paris
December 14, 2002
*

Beth Arnold lives and writes in Paris, where she produces her "Letter From Paris" new media project. 
For more on artist (and couturier) Elizabeth Cannon, click here.