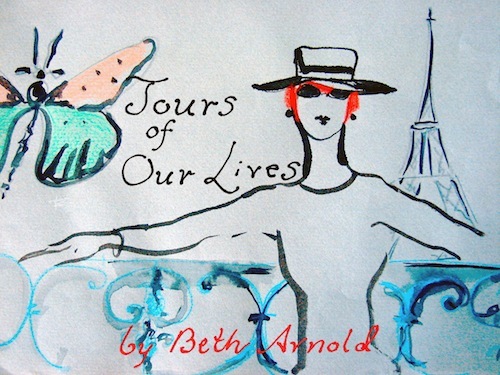 Illustration by Elizabeth Cannon

Part of an ongoing series about uprooting our lives in America and moving to France. For what's happened before, see previous Jours of Our Lives entries here.
JIM'S LAPTOP JUST quit working. A blank screen was staring at us no matter what he did, and he simmered up a minor meltdown himself, though not as bad as it could've been--and not to the extent that I probably would've lost it with our technological setbacks and the stress that has generated. Our wits aren't wired industrially. Oh, maybe if we really tried they could be, but that would be excruciating too. The point is that attempting to get our European "theater of operations" up and working has eaten us alive.
The lone Parisian activity we've had any time for are long walks down the boulevards and rues, exploring our neighborhood while looking for just the right dinner setting. This is one of the great joys of Paris. We walked in Little Rock for fitness, not to travel from one place to another or as a pursuit in itself to enjoy, not to find another architectural beauty or scene we hadn't laid eyes on before--not to savor the city's life. We could have strolled and appreciated our own surroundings, even if they weren't Paris, but didn't. That was a decision we made in how we lived our lives. Growing up, our daughters wouldn't have considered walking four or five blocks to the video store. "I'd be embarrassed to be seen walking," our younger daughter once said. We do not see what we have. We're too busy driving by it.
There's also the matter of instant gratification, time and how we perceive it. How do we live with the concepts of speed and slowness?
Milan Kundera
, one of my favorite authors, addresses these ideas in his novel
Slowness
--how human beings think and feel, act and respond. Time is a trickster, and it is part of our challenge here in Paris. We're being killed by the technology, but we must have the immediacy of the Internet for our communications network. And yet the most interesting point in this project for me--the learning to see--is all about slowness.
One afternoon after we'd been to the huge department store BHV (actual name Bazaar d'Hotel de Ville) to buy more electrical and business supplies, we met Ruben and Chloe at the trendy Le Fumoir to connect, buy them a drink, and apologize for having missed the Louvre party. Chloe, an American artist who has lived in Paris for more than 20 years, takes whatever job she must to make ends meet. Ruben is Argentine and has been here 12 years.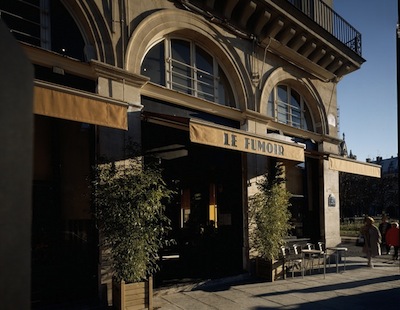 Photo via LeFumoir

Chloe talked about what a tough city Paris is--but how great the quality of life. It's been my contention for years that artists are not supported in the U.S.--not financially, culturally, individually, or as a group. Art and the creating of art, which is a great equalizer and connector--the enjoyment of it is available to anyone in any class--is generally not valued. Respect for art forms, which enrich our spirits, life condition, and society, is dismissed. Ruben and Chloe discussed how hard it is to survive as an artist in Paris, but Chloe agreed that artists are better thought of here than at home.
Being here really is different this time. We're not tourists breaking our necks. We're working, trying to get set up and get organized. We haven't even made the pilgrimage to our favorite haunts on the Left Bank. The weird thing is we don't even care.
In the meantime, we couldn't work the phone that we were so proud to have. We could dial a number, but we couldn't retrieve messages or do other basic functions. We couldn't even hear the phone ring. We'd chosen the "polite" tone, which I then changed to "espionage." It startles me when I hear it.
After a maddening, draining, couldn't-make-anything-work day, we strolled down the rue des Archives on our evening ritual. Several shop windows entertained us with their displays of S & M accessories. The boy crowd was spilling out of one of their favorite bars to hang outside, bald heads and hard bodies clad in leather pants and vests. They had an urban, polished/rough edge, or they could've been in a musical. I told Jim I might ask them how much they'd give me for him. Gay men always love Jim, which he should take as proof-positive that he's still got it. But that isn't enough for him. He still longs for hair, especially hair with color.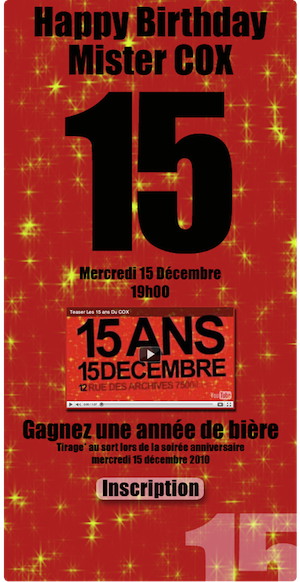 Via Cafe Cox Bar in Paris

After that, we came home and burned up the printer. We're learning the hard way about French electricity and the gizmos we do or don't need to go with our machines. Important distinction: Adaptors are not the same as converters. And surge protectors don't help at all.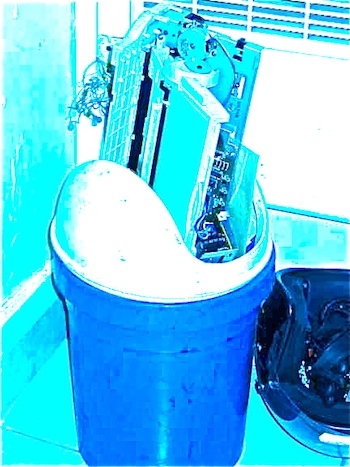 The good news was, we heard from Europe By Car about a model to lease when we get on the road, and that was exciting! All the choices were interesting--a little station wagon with a huge sun roof that opened to the sky, a large sedan with a GPS system, or a little van that could hold Our Stuff. Ooh, this is good!

At dinner, we saw two little dogs trot into our restaurant with their owners, which pleased us much and made us think of our Snapp at home with his grandmother. Somehow, by the end of the day, we'd made a leap. We felt like things were going to change and go more smoothly.
As Hemingway said, "Isn't it pretty to think so."
Beth Arnold
Paris
December 15, 2002
*
Beth Arnold lives and writes in Paris, where she produces her "Letter From Paris" new media project. 
For more on artist (and couturier) Elizabeth Cannon, click here.