Kind David IV of Georgia, Image via Wikipedia
On our recent visit to the Republic of Georgia and its second ever Fashion Week, the Lone Wolf and I were also introduced to Georgian art. There is nothing I like better than to experience the culture of a new territory by looking through the eyes of its artists, and Georgia was no exception.
We were delighted with an exhibition of Georgian Cinema and Theatre costumes at the Vato Kakhidze Art Center, and the interior of the building itself was an extraordinary example of Art Nouveau. At the Georgia State Museum of Fine Art, the icons we viewed were absolutely stunning (Wouldn't I be in heaven to own one!) even if the matrons who ran the tours seemed a bit old-style U.S.S.R. Communism, which Georgia is trying to eradicate from its national consciousness. The jewelry that had been saved and protected since antiquity was purely exquisite.
Vato Kakhidze Art Center
But the most meaningful stop on our cultural tour of
Tbilisi
was at the Tbilisi State Academy of Fine Arts, where young designers had prepared a show for us. I'm not sure if I have ever been touched more deeply than by these design students who were thrilled that we "foreign guests" were stopping by to meet them as well as to see their work.
One has to remember that fashion didn't exist throughout generations of the U.S.S.R.'s occupation of Georgia. Freedom of expression was prohibited, and state-approved thought and life were the only acceptable choices until the breakup of the Soviet Union in 1991. So, in some sense, Georgians are reinventing their wheel, especially in their arts departments.
We were repeatedly told that artists and designers are reestablishing themselves as creators, but they literally don't know how to get their products into a competitive world market. While Georgia is rebuilding its foundations and infrastructure to catch up to the 21st century global environment, artists are constructing their voices as well as their confidence in using them.
I felt like Queen Elizabeth as we walked through the room filled with these talented young creators, who were so hopeful about their interactions with us. This was a chance for outsiders to actually see them. This, of course, is huge for any artist no matter what his or her discipline, but for these young women and men who have been more isolated, it was that much bigger. I thought there needed to be some organization in which established artists from the U.S. and other prosperous countries could spend time with young creators such as these and teach them to trust and develop their talent as well as about directing their products into a commercial world.
Here are some of the fine young Georgian designers and their creations...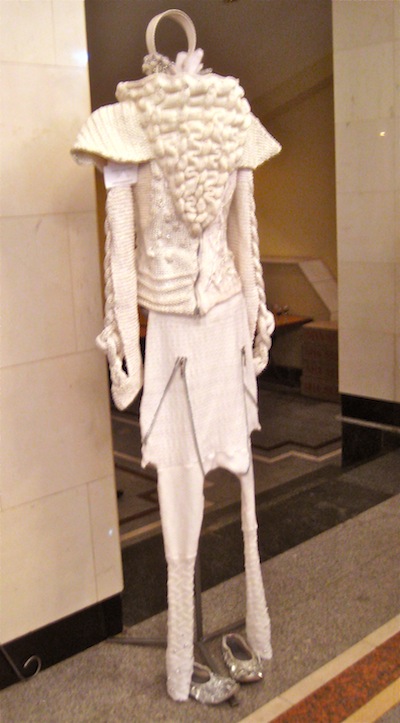 From the collection of Marita Mamuchashvili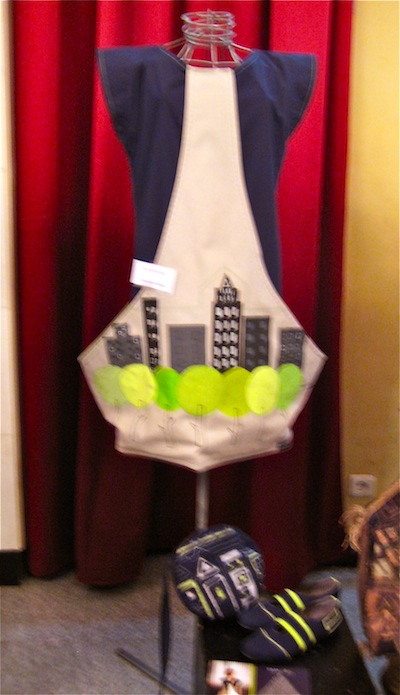 From the collection of Tamara Bochikashvili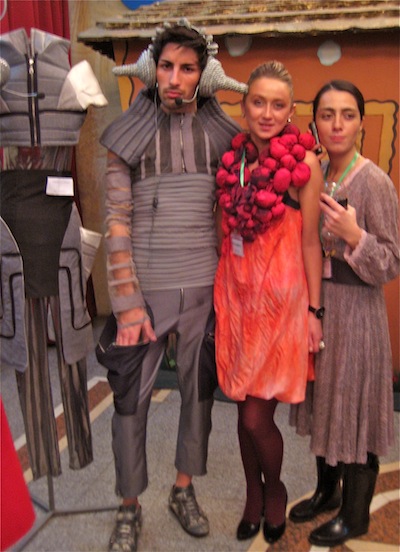 Space suit on left is the design of Liliko Sarkiashvili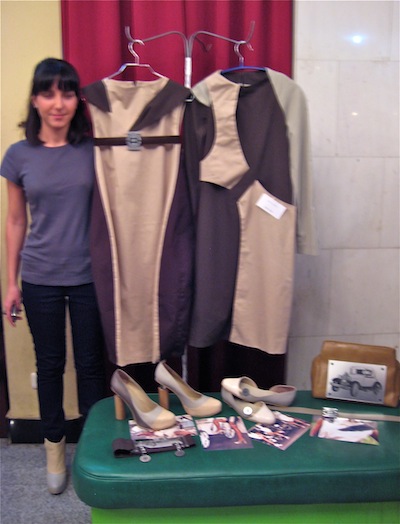 Teona Tigieva with a sample of her collection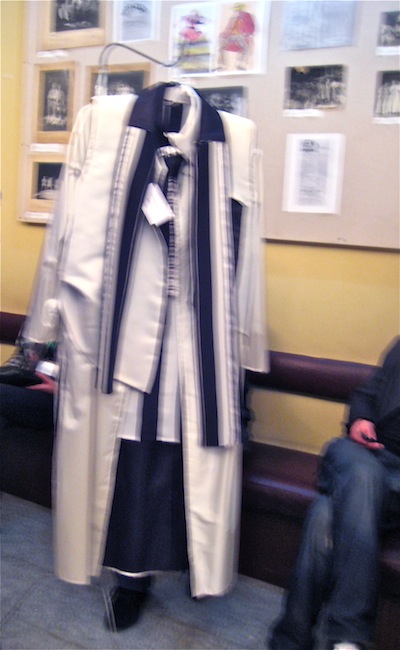 Teona Gagloeva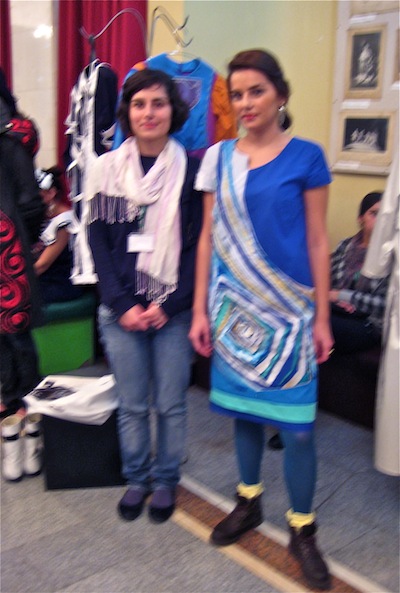 Shuqia Arabuli (left) was inspired by Vincent Van Gogh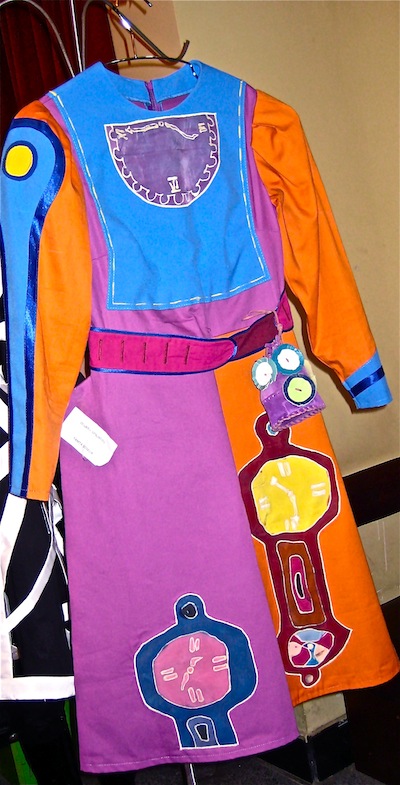 Tick tock, surrealistic clocks cover this dress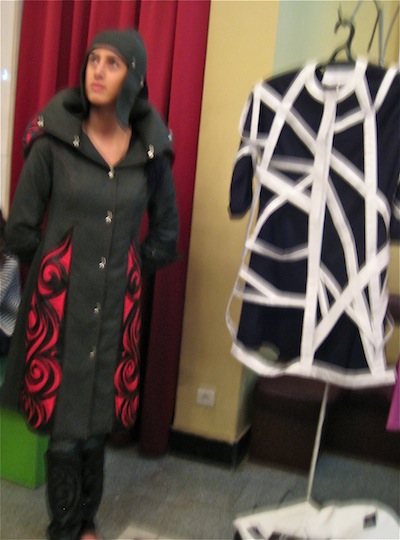 Tapo Shotadze's design on right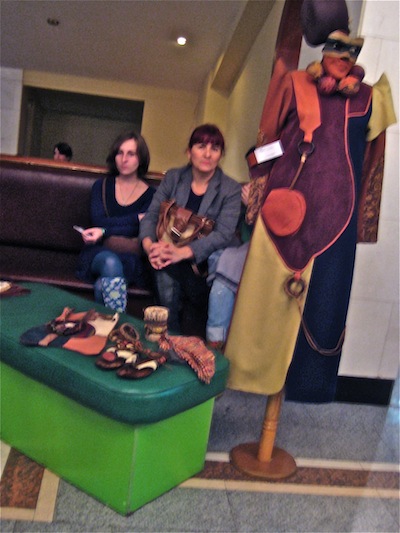 Qeti Aqubardia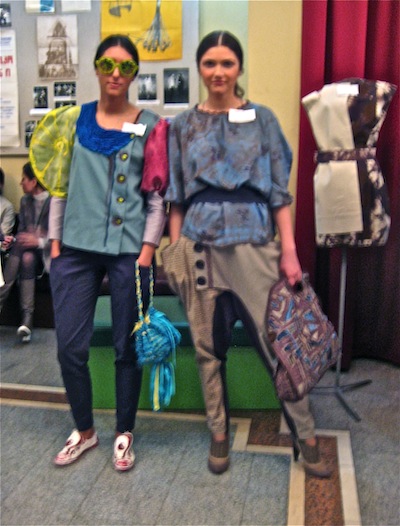 Design on left is from the Cocktail collection of Nino Matiashvili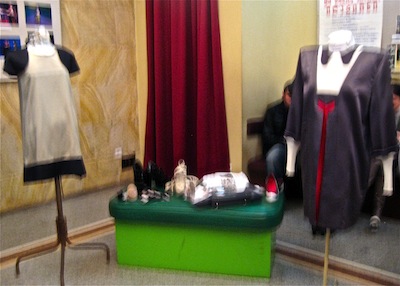 From the collections of Ani Titvinidze and Nino Tediashvili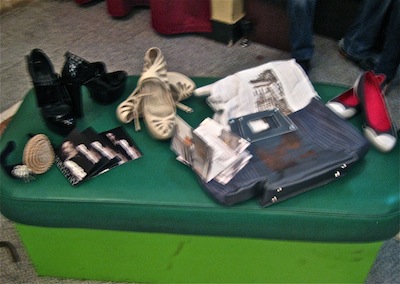 Accessories of Ani Titvinidze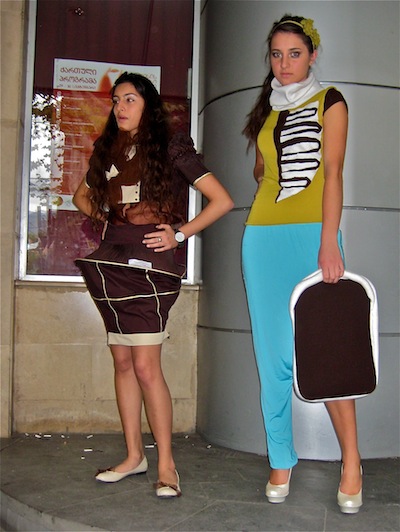 Nini Girmisashvili and Mariam Manjavidze
We didn't have as much time to spend with the students as I would've liked, but I hope they realized the appreciation that I and others felt for their ideas and talent--and that it was important that they pursue them. They will be the builders of a new Georgia--one in which art, creativity, and fashion are an important part of their society.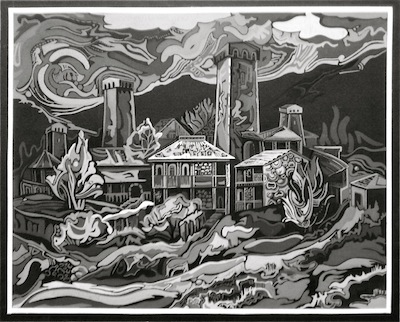 A painting by Liliko Sarkiashvili
These young people were also an inspiration to me. Along with their visions, their hunger to push themselves out into an artistic new world was potent. I send my blessings--and say Amen.
Here is a list of some of the students who took part in the exhibition: Tamara Bochikashvili, Liliko Sarkiashvili, Mavra Batiashvili, Tako Tatuashvili, Tatia Zenaishvili, Vika Babiani, Tamta Qoridze, Shukia Arabuli, Mariam Manjavidze, Lita Gasviani, Mako Gabunia, Natia Mgebrishvili, Nino Girmisashvili, Nino Matiashvili, Qeti Aqubardia, Teona Gagloeva, Nino Tediashvili, Ani Titvinidze, Salome Dvalishvili, Tata Veltauri, Tapo Shotadze, Teona Tigieva, Viktoria Babian, and Qeti Joloxava.
If I have left anyone out or made any mistakes of identification, please let me know. I'll correct it!
*
Unless otherwise indicated, photos by Beth Arnold.

---Beth Arnold lives and writes in Paris.