Galeries Lafayette - Image via Wikipedia
The holiday season is upon us, which means our yearly eating, drinking, partying, shopping, spending blow-out has begun! I have to admit that I love Christmas. My parents, Bill and Bobbye Arnold, didn't give us every single thing we wanted all year round, but, yeah, baby, at Christmas, they loaded us up! Oh, the decorations, the trees, the cookies and candy, the high spirits, creamy baked oysters, the singing of carols, and reading of stories conjured up Santa and his reindeer for me.
I will also admit that I adore giving gifts. There is nothing as fun as finding a present you know is perfect for someone you love and/or appreciate. With our modern lives and the extraordinary demands on our time that both enrich and deplete us, that's not always easy to do. But there is one store that I know I can find something for everyone to be delighted with, and that, my friends, is a book store.
A book is always a gift one can be proud to give--an array a king might be delighted to present his subjects, from courtiers to worker bees. There is power in words. There is romance, travel, mystery, science, adventure, solace, encyclopedic information--stories that compel us in every way, as well as transform us.
And in that spirit, I am presenting three books that I happily recommend for Christmas pleasure:
The first one is Choosing Easy World: A Guide to Opting Out of Struggle and Strife and Living in the Amazing Realm Where Everything is Easy by Julia Rogers Hamrick.
With our holiday pleasure comes the flip-side of stress that the intensity of our activities bring us. In
Choosing Easy World
, Ms. Hamrick gives us her take on the powerful spiritual theme that is running through the veins of our culture--the "
Law of Attraction
." She makes her Easy World pitch with good writing that's easy to read and understand, her point being that we're a thought away from letting our lives unfold effortlessly. Instead of beating our heads against an ego wall where we can never find peace, we can choose to live in Easy World, where the Universe works things out for us. Once we stop resisting the fill-in-the-blank of our personal lives, we have the space to feel this Universal ease--and solutions appear naturally.
I need daily reminders of this concept which I actually try to put in use. The bottom line for me is this: Thinking happy thoughts makes life better, period. So why not? Ms. Hamrick has an active following on Facebook, where she posts messages of thoughtful inspiration throughout the day. And you can find @EasyWorldJulia on twitter here.
What better gift to give in easing holiday stress?

For all you cooks out there, Susan Hermann Loomis's Nuts in the Kitchen: More Than 100 Recipes for Every Taste and Occasion offers an imaginative choice!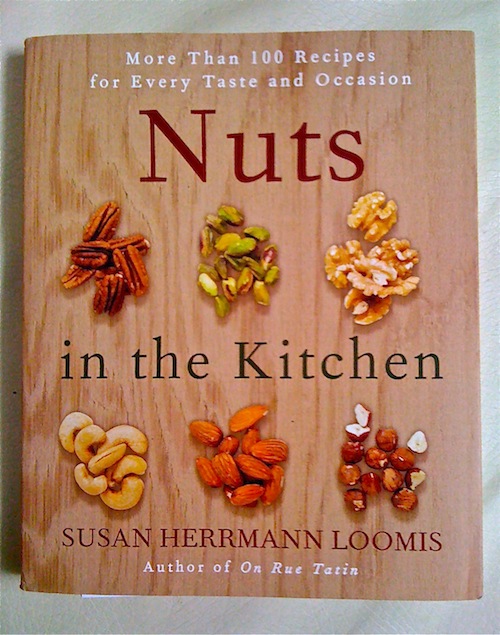 Loomis is the author of eight books, including six cookbooks, and is a regular contributor to Bon Appetit, Cooking Light, Food & Wine, and The New York Times. She owns and operates a popular cooking school On Rue Tatin in Normandy, France. Periodically, she also has classes in Paris.
More than 100 easy-to-make recipes for small plates, salads, main courses, side dishes, and desserts are included in this nutty collection, and Loomis uses every kind of nut you can think of. She shows how they complement, or can be the centerpiece of, every single meal of the day. If you love the texture and crunch of nuts--like I do--this is a great cookbook for you, well-researched and written!
Plus, I can testify to the recipes' deliciousness. I attended one of Loomis's classes in Paris (which would also be fab to attend in Normandy) and not only was the food wonderful but it was an intimate blast to cook a divine meal with this writer-chef's warm and knowledgeable instruction--and in the good company of her other students. If you're visiting France and are interested in cooking and food, I definitely recommend her classes.

Last but not least is Mademoiselle London ♥ Paris (sometimes). Oh la la! Think a cross between The Little Prince with a Parisian dollop of Bridget Jones.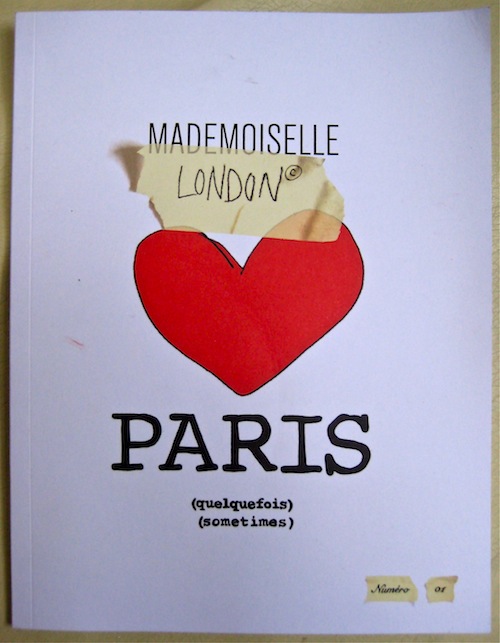 Former Londoners Franki Goodwin and Katya Jezzard-Puyraud, have combined their skills of design and writing with cool graphic illustrations and poetic text to create Mademoiselle London, a modern British woman who is learning to be a Parisian!
Bad love affairs, bad grammar and bad hangovers - a typical week for Mademoiselle London whose drunken escapades in Paris are served up in this new graphic book. Bursting with comedy and colour, the book offers a sneaky peek at the well-hidden underbelly of Parisian life.
And, yes, there certainly is one.
The book gives a sense of a newcomer's experience in the City of Light as Mademoiselle wrestles with loneliness, language and some very dodgy characters, and it's written in both English and French. It is full of the good energy of Ms. Goodwin and Ms Jezzard-Puyraud. A perfect present for all lovers of France as well as those who want to practice their French! Not your usual I-moved-to-France book.
You can follow Mademoiselle London on twitter here.
I'd like to close with one last thought for you. In the holiday spirit, I'd like to say: Have yourself a bookish little Christmas!

---Beth Arnold in Paris