Image via Wikipedia
Every expatriate has a story of how and why he left his home and came to live in a foreign land. These accounts may be tales of romance. They may thrill or entertain. The expat may never have meant to stay, but somehow new roots burrowed into foreign soil.
I have been telling my own tale in a series on my blog called "Jours of Our Lives." But I will quickly explain now that my journey in France started because of the painter Henri Matisse, along with my desire to live here. My husband, James Morgan, and I came to follow the artistic life of Matisse and to learn to see, and we spent six months driving across France doing this and another 13 months living in the village of Collioure, where Matisse helped invent Fauvism. We considered the work of Matisse, his color and light, and the perspective in which he created his pieces everywhere we went. I can tell you that this journey for me was dreamy.
And so when a friend emailed us about the current show at the Mona Bismarck Foundation--Another Language: Matisse As Printmaker--we definitely were interested. If you're not familiar with this lovely cultural center in Paris, let me catch you up...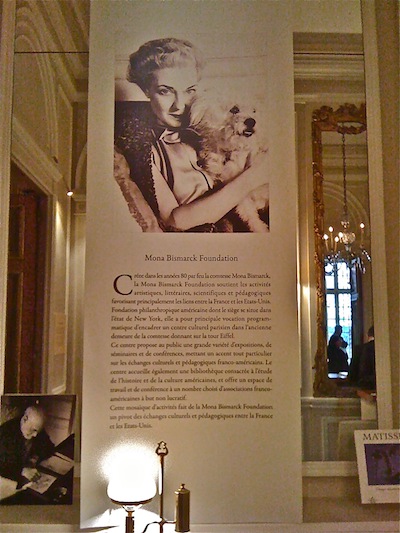 The
Mona Bismarck Foundation
, created during the 1980's by the late American philanthropist Countess Mona Bismarck, promotes artistic, literary, scientific and educational activities, particularly those which further Franco-American friendship. An American foundation, registered in the State of New York, the Mona Bismarck Foundation supports, as its main programmatic activity, a Paris Cultural Center in the Countess' former townhouse overlooking the Eiffel Tower.
What a house! The Countess had a beautiful life, and she left us a lovely foundation where we can see exhibitions such as this Matisse, and admission is free. Americans in Paris definitely should take note of this tantalizing resource.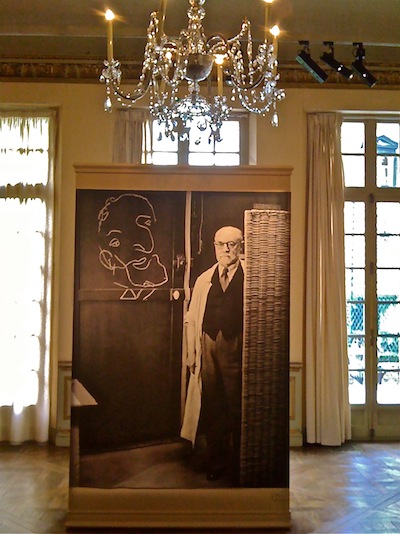 Thanks to the support of Barbara and Claude Duthuit (grandson of Henri Matisse), the Mona Bismarck Foundation is showing over 100 (of the 900) prints by Matisse, dating from his early career to his death in 1954. The engravings "almost never seek to imitate the master's paintings or drawings, but dialogue with them, sometimes challenging them and sometimes further developing them."
This is a lucky day for Matisse lovers...but not for long. The exhibition ends on February 15th.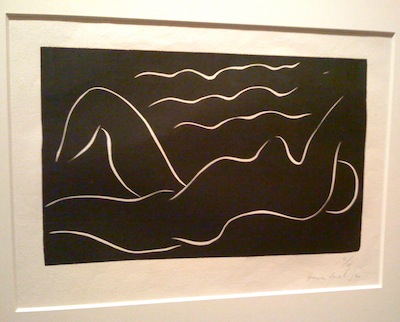 Nu dans les ondes (Nude in the Sea), 1938, by Henri Matisse. (Duthuit)
"...Matisse used the lightest, simplest and most adaptable of all Instruments--the line. Throughout his career he tirelessly expounded the importance of line to his friends. "It's all about learning and relearning the writing of the line," he said.


Print-making afforded Matisse the ideal terrain for working at inventing and reinventing the writing of lines and the language that it produces...."


 

Print by Henri Matisse. (Duthuit)
In this complex world in which we live, learning to see is a lifelong proposition.  Not to blindly walk through life--or live it on the surface--but to consider what is before us, to consciously explore and think about the art, objects, nature, and human beings that are part of our experience.
Oh, but to see the way Matisse did!
Mona Bismarck Foundation
34 avenue de New York
75116 Paris France
Closed Sunday and Monday
Entrance free
Unless otherwise indicated, photos by Beth Arnold.
---Beth Arnold in Paris 
To follow my point of view of the Lone Wolf and my journey, click here. To get the Lone Wolf's book Chasing Matisse, click here.