Image via Wikipedia
What do we see when we open our eyes and mind?
Last fall, when my Lone Wolf husband and I moved from the stunning Place des Victoires to the 20th Arrondissement of Paris, it took us some time to adjust. We had been surrounded by the fairy tale Paris--the Paris that catches your breath and doesn't give it back until you exhale her beauty back to her. Until you reckon your relationship with her on an intellectually substantial plane as well as the one of pure delight.
Our first six months in the 20th compelled us to dig deeper in our views of Paris--and to see our new neighborhood in a fresh way. The mix of some handsome old but many more ugly block-ish new buildings (than we'd had in the center of Paris) and the lack of iconic monuments created a gap in our experience that needed to be filled with urban landscape appreciation of an alternative sort. In my opinion, the way one sees and experiences any place the most thoroughly and best is to walk through it.
Within a few weeks, we'd taken a promenade that spit us out on rue de Ménilmontant ...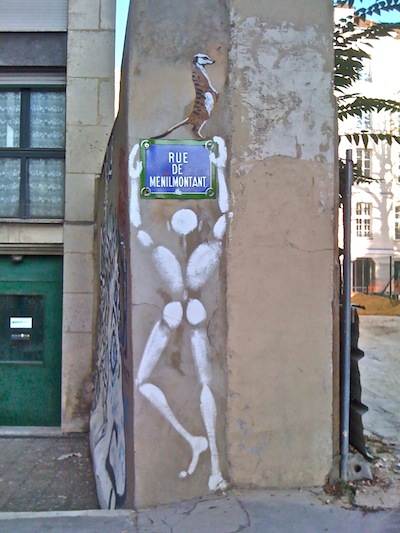 This was one of the first street scenes that not only got my attention but excited me. I later discovered it is the work of a famous Parisian street artist name Jerôme MESNAGER.